Clues to Know if She's Not Into You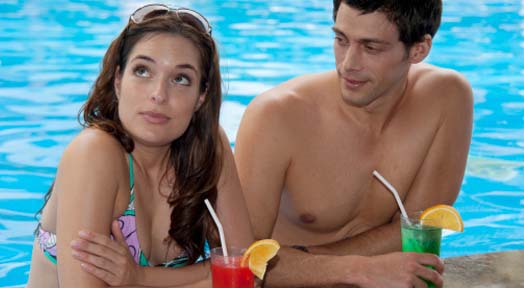 She's not that into you. Here is the picture: You like the woman who you have been dating and see a future with her. But the problem is she flirts with other men and sends mixed signals. How do you know if she likes you or not? For the guys who aren't so great at reading minds here are several indications that she is not that into you.
Five clues to know she's not into you
Not Ready for a Relationship
She Always Claims That She Is not Ready for a Serious Relationship
Being not ready to have a relationship is the classic escape for women who feel cornered by men whom they find uninteresting. The escape route does not require any preparation and has no room for any counterargument. Maybe she thinks that you are not a relationship material and does not want to be with you.
Doesn't get back in touch
She Doesn't Find Time to Return Your E-mails, Calls or Texts
Though women can be very busy especially if they are career-oriented or independent, you should expect a reply to the text and e-mails you have sent or to the calls you have made in a reasonably timely manner. Not returning your first call is probably a sign that she is playing hard-to-get. However, if she still does not answer your second call, you can probably say that she's not really interested in you. Answering your texts or e-mails in short replies also imply that she does not want to start a conversation.
Not into PDA's
Sign number one that she's not into you is she avoids public displays of affection as well as physical and eye contact. Women who are attracted to men will naturally want to have some form of contact whether it's eye contact or physical contact. Though some women are not comfortable being affectionate in public, they can make few exceptions for the right person. Avoiding your gaze and constantly darting her eyes around means that she is searching for something or someone that could entertain her.
She Always Cancels or Makes Vague Plans
Women who are into a guy often forget their busy schedules to make plans with him. Making vague plans is a sign that women do not care about you, do not want to see you, or do not want to commit with you. It is all right to cancel plans occasionally for a legitimate reason, however, if she constantly canceling your plans, it means that she doesn't want to make the time for you.
She Often Talks About the Other Men She's Interested With.
Sometimes women talk about other men to make a man jealous. However, if a woman seriously talks about her date with other guys, she is probably not that into you or just sees you as a friend.
If the woman you like possesses two to three of these signs, it is time for you to move on because she's not that into you. Look for someone else who deserves your love, respect, and affection. And that someone should love you without any pretentions and be willing to commit and have a relationship with you.
Most Recommended