Hot Positions to Work Different Sex Angles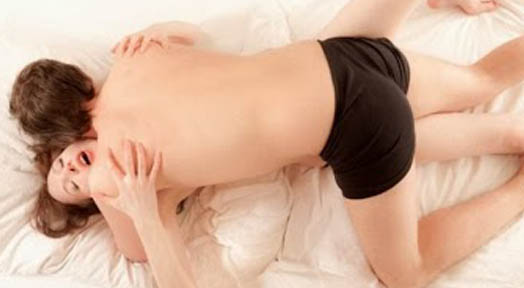 It's a misconception that sex is a straight in – straight out activity. It may seem that way when you're in the throes of passion and you're concentrated on a certain spot or position, but the reality is, there's a lot of pleasure to be found if you work the angles around the traditional boundaries of the body's sexual areas. What man hasn't experienced the thrill of unexpected intimate contact on the sides or underside of your manhood? The nerves in these areas may not be as sensitive as the tip, but that doesn't mean they should be forgotten. Similarly, a great number of women enjoy the sensation of pressure or friction when penetrated from a slight angle.
Try these four sex angles for an amazing new experience
1. Stairway to Heaven
If you have stairs in your house don't just use them for walking. Sit on the second step from the top facing down and have her sit on you facing forwards. She can brace herself on the rail as she rides you up and down.
2. The Spider
This is definitely not your straight up and down position. Both of you lay on your backs with your heads at opposite sides of the bed. Then scoot to the the middle with your legs spread and bent, penetrate her and she will rest her feet in front of your thighs. Then both of you rock back and forth with pressure on your elbows and feet. It should look somewhat like the crabwalk and is a great position to watch her body has you thrust.
3. The X Position
Once in the spider position you can easily transition into the X. Stay intertwined with your heads at opposite end of the bed but lay her backwards as you rise up to a seated position. Grab her ankle and lift it on your shoulder as she grabs your ankles. This posistion allows deep penetration and extra rubbing on her vulva from the back of your thigh.
4. The Thighmaster
This position is similar to the reverse cowgirl where she rides you facing backwards however with a slight twist. instead of straddling the hips place her on top of you and angle her to straddle one leg as she rides up and down. This position gives you a great look at her assets and she'll love feeling in charge as she controls the tempo.
To add this facet to your intimate relationships, begin with a discussion with your partner. Make sure she is open to the change, and be sure to establish guidelines for discontinuing the activity if either party experiences discomfort (pain and discomfort are not common, but can happen if you work the angles too extreme or the pressure is too hard). Then, try positions which offer both flexibility and stability such as hands and knees or standing while bent at the waist. Avoid missionary or woman-on-top variations as the weight and balance associated with these positions can be difficult to control and can lead to uncomfortable falls and possible discomfort.
Most Recommended