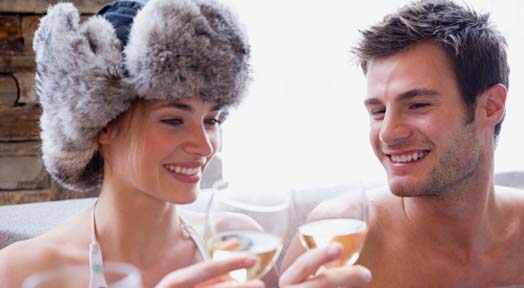 Winter date ideas are notorious for being an impossible time to do outdoors. You want to take your hot chick on an awesome date but you find yourself limited to going to a movie or out to dinner. Well not anymore. We have the complete run down of winter dates you can do outdoors and increase your ideas of what a good time has to entail in winter. We have a list of the top 8 hot winter date ideas to do on cold winter nights.
1. Hit the Hot Tub.
Winter is definitely not bikini season so what better way to get your date to slip one on for some one on one time. Grab some champagne and strawberries and you are sure to have a hot and steamy night!
2. Picnic for two with hot cocoa.
Sound cheesey? While you might think the idea of spending an evening under the stars is ridiculous, you won't find it so silly once she starts making passes at you because she finds the date super romantic. Think outside the box and bring hot cocoa in a thermal bottle along with peppermint cookies, and maybe some dark chocolate. Don't forget the blankets to lay out and snuggle up under.
3. Go ice skating.
If you are pretty good at skating on ice then this is a must for your winter date list. You can play her hero as you catch her from falling onto the ice. You can top it off with a bottle of wine in a local park or cafe. Ice skating is a sweet and a fun way to get active during the winter.
4. Buy tickets to a hockey game.
Most of these games take place outdoors (especially if you live in the north) so grab your partner and head out to an outdoor winter hockey game to catch all the action. Get her in on the game by buying her a jersey or making a sign she can hold up.
5. Take a carriage ride.
If you don't mind spending a few $$ on a romantic carriage ride for your date then consider doing that this winter instead of staying indoors. Most carriage drivers will offer your lady a rose and possible serenade you two during the trip.
6. Scope out Christmas lights.
You can do this either by car of by foot. Grab your date, a pair of pjs, and play some Christmas music while you see how your neighborhood has decked the halls. It's fun, romantic, and free!
7. Go for a walk right after a big snow.
Women love to see the stars on a cold winter night, and if you bundle up together things can get steamy quickly. Buy some snow shoes for the both of you to trek across your neighborhood and see how fast it became a quiet winter wonderland. She will eat it up!
8. Go Skiing.
This one is for men that have a little extra dough in the pocket, but nonetheless an option for anyone living near the ski slopes. The idea is to both impress her with your skills and your over flowing pockets. Don't get carried away trying to impress her though, that is how you end up in the ER on your date night.
9. Make a bonfire.
Nothing screams romantic quite like building your own private bonfire in your back yard during the chilly winter months and inviting her to roast marshmallows with you. She will find you irresistible if you take a little effort to make her feel taken care of.