Best Crossfit Workout Training Shoes For Men

When it comes to CrossFit Workout, the proper CrossFit shoes matter! With that said we have compiled our top picks of Crossfit shoes for you to chose from for your workout. All of these shoes on our list, are a perfect fit and will help you through your various exercises when targeting different body areas. Buying the right Crossfit shoe is surely a challenge; it is not an easy task. Have a look and see if your favorite brand made our list. It may just be the deciding factor for you whether it's time to change and upgrade. Best Crossfit Shoes For Intense Workout Routines
Reebok CrossFit Nano 8 Flexweave
The Reebok CrossFit Nano 8 Flexweave is certainly one of the top searched shoes that many people are impressed with. It is the right blend, the style, the comfort, the true-to-size measurements can surely impress buyer. In fact, its flexible forefoot makes sprints and runs look easy. The grip and traction score the highest marks from users and earns it the title of best overall shoe for Crossfit training.
Nike Men's Metcon 4 Training Shoes
It resembles the looks of Metcon 3 but has other important key features that separate it. The Nike Men's Metcon 4 Training shoes have garnered a lot of praise from fitness aficionados as it lets them perform excellently. This Crossfit shoes from Nike comes with a dual layer mesh over the forefoot, giving your forefoot cushioned and comfort. Also, over the soft upper along the high wear areas it includes a "haptic" raised print. Unlike Metcon 3 from Nike, the Metcon 4 also got a lace upgrade so that it stays tied. You can also do weightlifting workouts with greater comfort as it's broad and flat sole offer stability and balance.
Reebok Men's Crossfit Nano 7.0 Cross-Trainer Shoe
To begin with, it comes with seamless upper construction which gives it enough ventilation and better performance. This is one of the best overall CrossFit shoes out there to help keep your feet moisture-free and comfortable. It is suitable for days when you have heavy-weight training. The Reebok Crossfit shoes of Nano model gives you greater flexibility in particular with a stronger grip.
Adidas Performance Men's Powerlift 3.1
For Crossfit weight training days, you can't find another pair than this Men's Crossfit shoes from Adidas. Making the list of best Crossfit shoes in 2018, it supports give a good grip on the floor with its rubber insole. In other words, you have control over your posture and balance and carry out an effective workout. Also, the rubber insoles can be removed. You also get a comfortable fit according to your liking. For extra support, you also get cross-over strap.
Asics Men's Met-Conviction Cross-Trainer Shoe
The fitness world surely knows how valued the brand is and how durable and reliable the Asics Crossfit shoes are. For any part of your Crossfit routine, you can count on these shoes for enhanced performance. Its rubber sole keeps your feet comfortable and also helps in your movements. Your bounce back reduces as this trainer shoe incorporates Speva Midsole.
Reebok CrossFit Nano 4.0
Being the official sneaker partner of CrossFit, Reebok certainly knows how to make perfect CrossFit trainers. Also, check out the Reebok Crossfit Nano range of shoes and see what perfection looks and feels like. You can be assured that you will get the perfect shoe as Reebok takes customers reviews and inputs quite seriously. The Reebok Crossfit Nano 4.0 has gathered much appreciation from the fitness enthusiasts and comes across as a favored pick for high-intensity workouts. It is comfortable, has a snug and secure heel and good quality, durable build to protect you from injuries.
Inov-8 Men's F-Lite 195 Cross-Training Shoe
This cross-training shoe provides you with much-needed comfort and support. It gives you strengthened grip whether you exercise with kettlebells or climb the knotted rope. It is an excellent aid in keeping your body fit and avoid possible injuries. This is the ultimate balance shoe crafted by experts which is suitable for all your Crossfit training exercises.
Reebok Men's Crossfit Sprint TR Training Shoe
This is a stable shoe that comes with anti-friction lining. The anti-friction lining is fantastic because it further protects your feet from strenuous exercises with high movement. Its open weave mesh design makes it more breathable and comfortable for your feet. You get to customize your fit according to your preference with its full lace up closure. What else does one need from a perfect shoe like this?
Nobull Trainer Shoe
This cross training shoe from Nobull offers you unparalleled flexibility. Also, with its exceptional durability, it is one of the favorite choices of Crossfit athletes. It makes activities like running, walking and performing rigorous HIIT and Crossfit workouts a smooth task. The fitness addicts often appreciate its versatility, lightweight and breathable construction. Its comfortable fit makes it a popular pick for casual wear and activities like running and walking for a long duration. It has a roomy toe box and offers you excellent support.
Nike Free 5.0 Running Shoes
Not only can you wear them for your Crossfit workout but these can also be substituted for everyday use. They offer you the right amount of flexibility, comfort, and durability. While the sole gives you a strong and powerful grip on all surfaces, you hit. The shoes are stylish enough, and are suitable for casual use. The midsole of the shoe provides you with great support. With the Nike Flywire Technology, you get excellent support for carrying out all your movements with ease. Also, the comfort, lightweight and right fit ensure your workout is not weighed down.
ALEADER Men's Mesh Cross-Training Running Shoes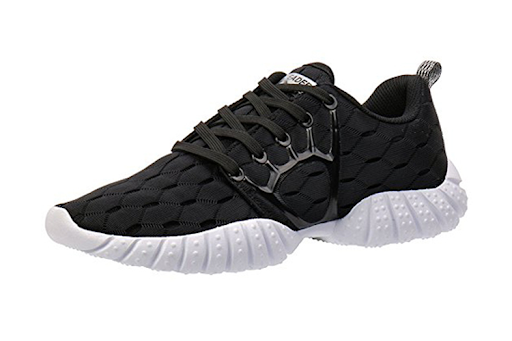 You get a double mesh upper and breathable lining that makes these shoes so comfortable. The features are sure to surprise you if you thought only Nike, Reebok or Adidas were capable of manufacturing the best Crossfit shoes. With excellent shock absorption, providing extra traction and full support these shoes absorb the impact when you jump up and down.

Most Recommended