Best Free Weights For At Home Workout Plan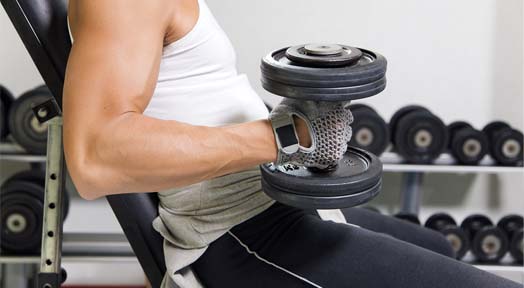 Unless you've got a basement, large garage, or spacious extra bedroom designated for exercise, space is likely a big factor in the equipment you choose to purchase for use at home. A weight system or free weights exercise set are some of those tricky purchases that can seem like a small investment at the store but then turns into a larger-than-life acquisition after you get them home.
Guide to the Right Amount of Free Weights for your Home Gym
Things to keep in mind
The trouble is, you end up spending several hundred dollars on dumbbells, benches, bars and plates and find the majority of it becoming expensive paperweights. Part of the problem is that heavier weight exercises like bench press or squats are honestly best done in the presence of a partner. Without that partner, you're confined to dead lifts or less-than-challenging weight amounts lest you end up trapped under your latest effort.
Keep in mind your space
The other challenge is quite simply the space. It's one thing to bring weights home from the store, where the warehouse size makes anything seem compact. It's another thing entirely to set those weights up with enough space to not have plates conveniently racked rather than stacked on top of each other like a deck of cards.
Adjustable Dumbbell and Other Space Saving Solutions
Some solutions to this are to just get a good expanded set of dumbbells for your free weight exercise and modify your workouts to eliminate bars and plates. Some systems even offer "dial-in" convenience for upping or lowering the weight from one user to another or between different exercises. The biggest advantage here is the space saving aspect, but don't be completely sold. These are often much more expensive than a similar set of free weights, which will take up space when all evenly spaced out on racks. The choice is at what cost you're willing to give up your personal space and/or interior design style (because no one thinks having your weights in the living room is cool… trust us).
P90X System free weights for at home
Another prevailing fitness approach says you don't need additional weight at all; your own body weight offers enough resistance to properly train your muscles for strength and endurance. The P90X approach is one such method with many devotees. Exercises like pushups, dips, balance moves, lunges and the like use the body as its own training apparatus. Few things take up less space than a DVD, right? Be prepared, though, because the P90X approach requires a serious commitment of time and dedication if you want to see results.
Long story short –
The gym is there for a reason. Our recommendation is to let the gym do the, uh, well, heavy lifting with the big, bulky equipment that it doesn't make sense to keep in your apartment or home. Your home equipment should be those things related to maintenance, like a yoga mat, dumbbells, kettle bells, a balance ball (or board), or resistance bands (all depending on your individual fitness goals of course).
Most Recommended