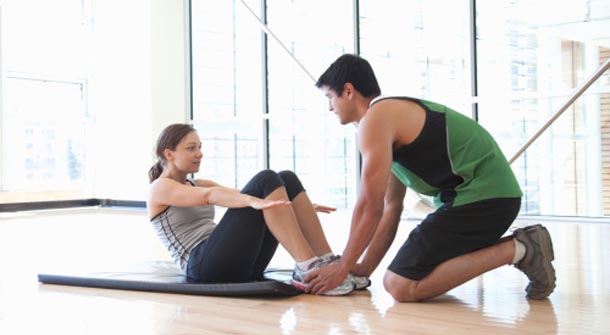 We all know that the gym is not the fashion runway however it is important to keep up to date on gym fashion trends. You don't want to look like the over coordinated guy who is trying way to hard however you don't want to look like your strait out of 1988 with a half shirt and knee length socks either.
Gym fashon you should not wear tight shirt short shorts.
Functionality and comfort come first however you want to make sure all garments are clean, without holes, fading or stains.
Tops
Wear T-Shirts with enough space to make sure you have the proper range of motion. Cotton is the most inexpensive material however they tend to show sweat more and do not absorb as well as dri-fit or breathe right synthetic fabrics. If you are fit it's ok to wear tighter shirts however if you have a larger mid-section stick to a looser fit (you can thank us later.) And most importantly wear a shirt! The shirtless look is great if you are running on the beach or playing shirts and skins on the basketball court. However, if you are in a gym no one wants to have your sweat dripping all over the equipment and you probably don't want to have your skin exposed to all of the different surfaces, so do yourself a favor and shirt up.
Bottoms
Your best bet for gym bottoms are shorts or track pants. Shorts should be at least mid-thigh or to the knee (no spandex, track shorts, and definitely no Jeans). Track pants should be long enough to cover the top of your shoes and solid colors like black, gray and navy blue. Stay away from neon colors with elaborate designs. The best materials to use are durable slick polyester blends, and breathable Nike dri-fit Addidas ClimaLite type materials.
Accessories
This is limited to caps, mp3 players, gloves and braces (if necessary). If you bring a gym bag leave it in the locker room. No need to tote around all of your belongings from exercise to exercise. Not only does it look kind of girly but it can be a serious safety hazard to have a bag lying around.
Shoes
Probably the biggest gym fashion purchase you will have is your gym shoes. Make sure you wear a clean pair of shoes that is designated for gym activities like a cross trainer or running shoes. No street sneakers, dress shoes or sandals. Most gyms won't even let you on to the floor if you are not wearing the proper footwear however if your shoes are permitted make sure they offer plenty of cushion and stability and are in good working order. Also as a courtesy to everyone who has to workout next to you wear socks so your shoes don't have any intense odor.