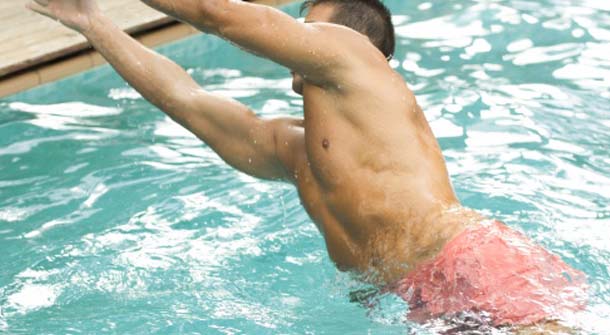 Think pool workouts are just for swimmers or old ladies doing jazzercise think again. Professional athletes like NFL and NBA players have been known to hit the pool for cross training, low impact speed and strength training and injury rehab to name a few. So pool workouts for weight loss or to help relieve some of the pounding and impact of your regular workout regimen with these simple exercises.
Best Pool Exercises to Add to Your Fitness Routine
Aqua Sprinting
To build explosive speed and power try sprinting full speed in the water. You can use a strap on flotation device that goes around your hips or sprint from side to side in the shallow end. The water resistance is easy on your muscles and joints and is more effective than land sprints or sled pulls. Sprint for 30 seconds full speed and rest for one minute (repeat 5-7 times).
Aqua Plyometrics
Set up in the shallow end with the water about chest high – do a series of one legged hops in place (right and left), one foot hops moving forward(right and left), two feet jump tucks and double leg bounds. Try each exercise for 30 seconds repeat each 5-7 times.
Aqua Ab Workout
Abdominal pool workouts are effective and help prevent strain that regular ground sit ups can cause. Brace yourself with your back to the pool and your arms up on the edge. Move your legs up and down in an L shape using your abs to pull them up and down. You can also do side to side ab work keeping your legs in the L position and split leg raises. Continue each exercise for 30 seconds and repeat 5-7 times.
Swim Laps
Finish off your pool workouts for weight loss with a few swim laps. Try alternating strokes like breaststroke, backstroke and free style to work multiple muscle groups. Start out with 10-15 laps of a moderate pace and you will no doubt feel the cardio burn.