living longer with exercise For a Better You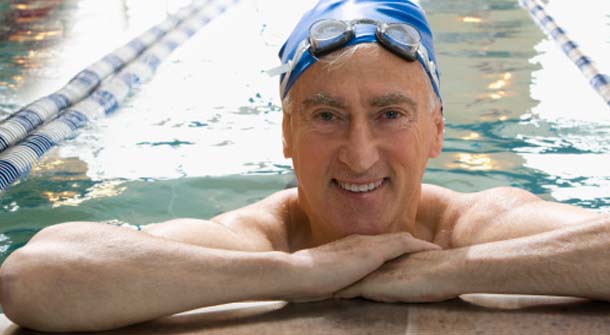 In a recent study conducted by the Harvard-affiliated Brigham Residency located within the United States, in collaboration with the National Cancer Institute and the Women's Hospital a number of researchers attempted to scientifically gain an accurate answer to one of the great debates within the fitness industry is what's the effects of physical exercise fitness and the secrets of living longer.
The Link between Fitness exercise and the secrets of living longer
In a detailed analysis of over six hundred thousand subjects during a ten year period, coupled with the examination of more than eighty thousand instances of natural deaths it was observed that there were significant gains in living longer in more than forty of the people who were found to adopt a regular fitness routine within their lifestyle irrespective of their body mass index profiles.
Adopt a daily exercise routine for living longer
Researchers as a result were able to conclude that the average person who adopted a daily exercise routine was found to enjoy the benefits of living longer. This finding was equated within a given scenario of the person walking briskly for a duration of seventy five minutes on a weekly basis would increase the average life expectancy of that person by 1.8 years. Similarly walking for a minimum of two hundred and ninety nine minutes would benefit the individual with an added 3.4 years in life expectancy.
Increased life expectancy
During the study it was also observed that this increase in life expectancy of the individual who maintained a regular exercise routine was not dependent on the weight of the person as individuals who were considered severely overweight were also found to benefit from life longevity while performing some levels of fitness exercise. However persons who were observed to be of a normal weight relative to their body mass index profiles or BMI were found to display more favorable results in the increase in their life expectancy.
Relieves anxiety and depression
Local physicians when treating their patients will often suggest regularly performing some levels of exercise activity to relieve anxiety, depression, anger and tension generally experienced within the home at or the office. Patients who are known to have a daily exercise routine will often feel some sense of accomplishment and well being immediately after completing their exercise workout which generally increases over time.
Good for your heart for living longer
When performing the typical exercise workout the heart rate becomes elevated resulting in an increase int he blood flow throughout the body thus increasing the amount of oxygen produced and transported to the muscle tissues, vital organs and the brain which has been proven to increase in mental acuity through exposure to physical exercise. Scientists today have been additionally able to determine that persons who were found to sustain a regular exercise workout were less likely to develop illnesses such as cancer and heart disease.
Lowers Cholesterol Levels
Maintaining a regular exercise activity has been known to not only provide a boost in good cholesterol levels but also significantly lower the levels in blood pressure of the average person by as much as between 4 to 9 mm Hg. The precise levels experienced in individuals who have been traditionally exposed to many of the antihypertensive medicines prescribed today by many local physicians.
Consequences of not exercising
In a study conducted by the American Heart Association it was discovered that men deprived from any form of physical activity experienced severe loss in body strength, stamina and overall body function. Conversely men who were exposed to a regular exercise routine were found to increase in body strength, stamina, flexibility and overall bodily function gaining a life expectancy of two hours with each hour of exercise activity regardless of age.
Recommended daily exercise for living longer
One of the secrets of living longer is to make sure you have at least thirty minutes of moderate exercise activity every day. Complete at least three exercise sets containing a minimum of ten minutes per set as an effective means to spend some time in exploring the outdoors. Or as an active form of physical and mental recreation exposing the body's skin to sunlight for an extra dose of vitamin D.
Most Recommended