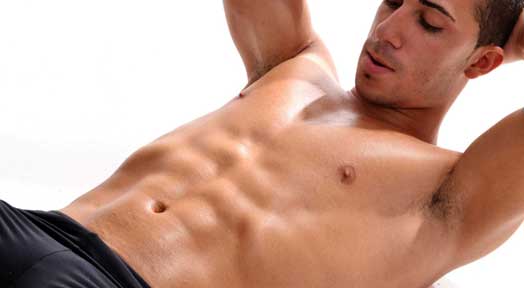 Moves to give you flat abs, The key to achieving a flat abs lies in strength training. This is primarily due to the fact that you needs to train your abs much more than the typical sit-ups and crunches to attain those solid six pack abs and flat stomach. One needs to emphasize their focus on a range of various techniques to achieve the best possible results.
Top Flat Abs Exercises for a Ripped Core
Improving your muscle tone is just one of the many moves to give you flat abs. Setting and maintaining a proper diet program is one of the main ingredients to achieve this goal and should be started immediately before any type of training begins. Consuming less calories within your daily diet is of vital importance and plays a much more important role that your exercise workout. That lack of excess calories will determine the amount of existing fat you will burn during your workout. This is highly important as even though a person can improve his stomach muscle tone, fat has the ability to lay on top of those muscles thus preventing you from achieving a flat stomach.
Having set your diet plan aimed to reduce your calorie intake, you should begin by doing some basic abdominal exercise routines at least four to six times each week and start a training program between three to four times each week. By taking this particular approach you will be able to rapidly increase your fat burn, resulting in noticeable weight loss not only from your stomach but from all body parts. Once you have completed those tasks to achieve the desired body weight you can now focus on specific strength training techniques to tighten the stomach and achieve flat abs.
The Bicycle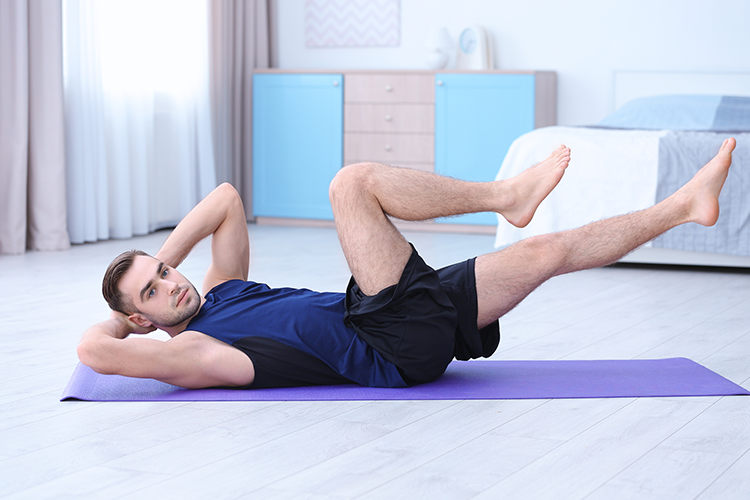 One of the many techniques used to achieve a flat stomach is the bicycle maneuver. This particular move is carried out by laying flat on your back and placing both hands on the sides of your head. Taking your knees, lift them up and pedal in a motion as though you were riding a bicycle. Once you can successfully complete this motion comfortably you can include variations such as using your left elbow to tough the right knee and vise versa. The key to completing this maneuver is to breathe through the routine.
Reverse Crunch
Using the Reverse Crunch is another maneuver used by many exercise enthusiasts to achieve a flat stomach. The exercise is done by first laying flat on your back again placing both hands on the sides of your head or at the sides whichever seems most comfortable. By crossing the ankles of your feet lift both legs in the air until they are perpendicular to the floor then bend the knees at 90 degrees. Then press your back firmly against the floor contracting the abdominal muscles. Exhale while contracting the abs before returning to the starting position.
Vertical Leg Crunch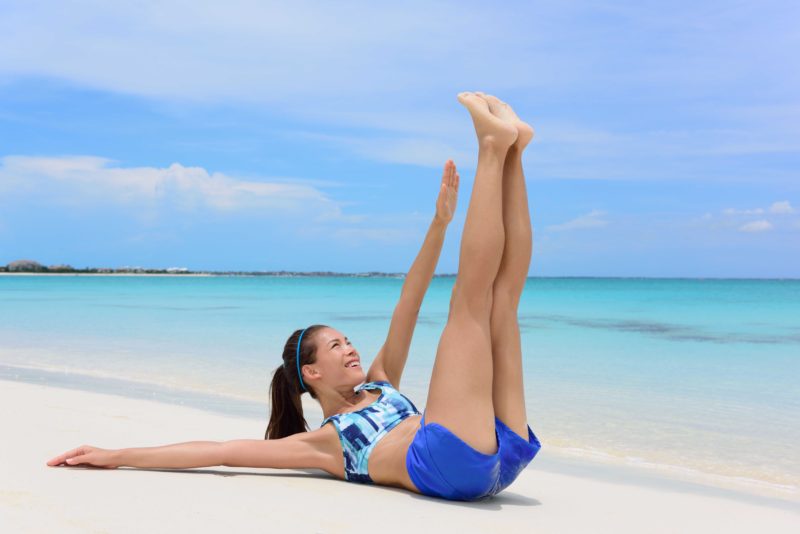 Exercise Ball
Using an exercise ball sit on the ball ensuring both feet are flat on the ground. Then recline the body backward still on the ball keeping both thighs and torso area parallel to the ground. Exhale as you contract your abdominal muscles and lift your torso, inhaling as you return to the starting position.
By completing these simple exercises along with a healthy diet routine, aerobics and strength training you will through hard work be guaranteed to achieving your goal of a flat stomach.