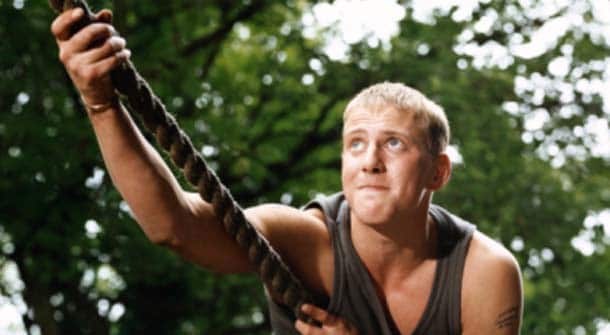 The American Ninja Warrior is a reality TV competition show where some of the most talented, impressively strong and nimble competitors navigate through some of the toughest obstacles courses known to man. This show was inspired by the Japanese show Sasuke and the top 10 warriors go on to compete in the annual competition in Mount Midoriyama, Japan.
What is the ninja warrior workout?
The warriors complete obstacles like climbing cargo nets, running over rolling barrels, and climbing half-pipes all without the use of tools or gear. This competition has attracted celebrities and professional athletes alike however there have only been three people to complete the daunting course in Japan (all Japanese) amazingly enough all three men were not professional athletes they were a fisherman, a crabber and a shoe salesman. So if you want to get in on the crazy action we have just the workout for you.
Ninja Warrior Workout
Short of building an obstacle course in your backyard (not recommended) this workout will take place at your local park, playground or gymnastics gym if you have access.
• 30 minute warm-up jog
• Monkey bars – 4 x across and back without stopping –(10 sets)
• Rope climb – Practice climbing the rope without using your feet (10 sets)
• Bench Jumps – Jump up on to the seat of the bench x 30 (10 sets)
• Pushups – x 20 (10 sets)
• Cargo Net – if there is a cargo net available practice your climb (10 sets)
• Pull – ups x10 (10 sets)
The American Ninja Warrior show is all the rage and gaining in popularity worldwide.
If you think you have the skills, strength, stability, balance and mental toughness to make the cut, they accept video auditions in their casting process prior to every season. If you just like to watch these incredibly skilled ninja's in action check it out to see who is ninja tough.