Eye Bags Causes And How To Get Rid Of Them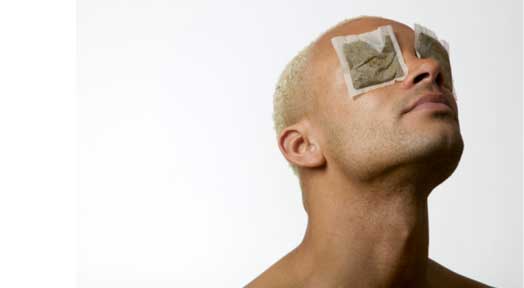 Are the stresses of life, work and family wearing you down? Even if you are able to juggle life's many unexpected stresses the after effects can be written all over your face and most importantly under your eyes. Just like women men get Under Eye Bags or dark circles under their eyes reasons causes due to stress, lack of sleep or poor health, ect. Unfortunately for us guys we don't have the luxury of using make up or concealer to cover them up.
Ways to treat or reduce eye bags naturally reasons causes by stress.
1. Use a cold compress under your eyes.
Try to keep it on for 30 minutes or however long you can take the cold. This will constrict the blood vessels under your eye and help reduce some of the swelling.
2. Gently massage eye cream under your eyes
Use your ring fingers to ensure lighter pressure. Hemorrhoid cream also works very well since it will have a constricting effect on your skin.
3. Apply chilled green tea bags under your eyes.
Green Tea has epigallocatechin gallate (EGCG) which is the anti-oxidant property that rejuvenates dull skin. Make sure they are properly strained so you don't get any liquid in your eyes.
4. Lifestyle changes
If you feeling exhausted try to take a step back and make an effort to do the small things like eat healthy, stop smoking, drink more water and get more sleep. Not only will the bags under your eyes disappear your entire body will feel rejuvenated.
5. Botox and Restylane Injections
if Under Eye Bags are just in your genes and the home remedies and lifestyle changes will not get rid of your bags you can always opt for the cosmetic route. Botox and Restylane injections will give you great results without completely going under the knife.
Most Recommended