Growing Sideburns For Your Face Shape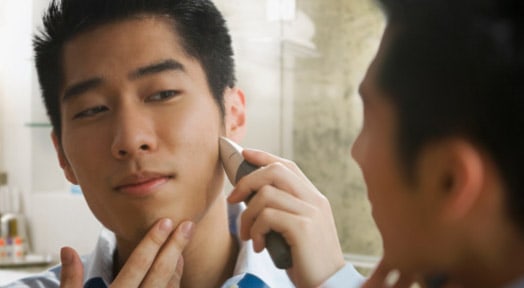 Grooming and growing sideburns. Growing sideburns are a common form of facial hair for the modern man. They are generally accepted in both the social and business world at present, though not long ago it carried a rebellious connotation.
Tips for growing sideburns like a pro
The key to having sideburns in the business world is to grow groom your sideburns properly. This will also determine how attractive they are to the opposite sex. The shape of your face will determine the length of sideburns that you will look good with. An oval face can wear just about any sideburns style well. Longer faces call for longer sideburns as shorter sideburns will only make the face seem longer. Rounder faces should stick to shorter sideburns but trim the bottom at a slight angle to add more shape to the face as a whole.
Don't over groom
When it comes to growing sideburns, it is important to leave them alone until they are grown in fully. Trimming too soon can affect the growth pattern. It may take several days or longer for your sideburns to grow in fully. You may want to let your entire beard grow, and then just shave off everything but the sideburns. If this would interfere with your job, you may want to start growing your sideburns while on vacation, or at least over a long weekend.
Maintenance is the name of the game
Once your sideburns have grown in and you have shaved around them to achieve the desired length and shape, you now need to maintain your sideburns. You will need to trim them about as often as you shave. As far as the hair length is concerned, you can maintain this with trimmers or a pair of scissors. If you are using scissors, be sure to comb the hair upwards to make it stand up. You can then use the scissors along with the comb to help maintain a standard length. A beard trimmer is particularly handy for easy sideburns grooming.
Don't overcorrect a mis-shave
If you mess up while trimming ("Oh no! I trimmed them too short!"), don't panic and shave your sideburns off completely. They usually recover in just a couple of days. Just leave off trimming them until they are fully grown in again.
Sideburns are popular, but you have probably seen a lot of guys who are doing it wrong. By wearing the sideburns that are right for your face, growing them in fully before trimming them, and maintaining them properly, you can make a bold statement while still looking clean cut and attractive to the opposite sex.
Most Recommended