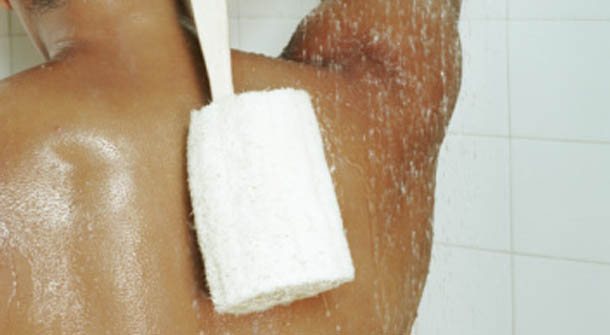 How to get rid of back acne. Having acne on your face can be hard enough to deal with but adding back acne can be just insult to injury. It is painful and tough to treat since you can't easily see it or reach it. Since your back is generally in constant contact with your clothing when you sweat it's easy for the pores to clog and if you don't clear off the dead skin cells that get trapped in from the excess oil it's easy for bacteria to get in and cause unsightly acne. Since the layers of skin on your back are thicker as well it's also easy for acne to thrive.
Here are some tips to get rid of your back acne.
To get rid of it the first step is to clean your skin daily. Use a antibacterial or acne wash twice a day. You will also want to exfoliate using a wash cloth or sponge every other day. Make sure to start out exfoliating gently and be careful not to further irritate the skin. Once you have cleansed and exfoliated much like your face you will want to use a medicated lotion or cream. Check for active ingredients like salicylic acid, benzoyl peroxide, resorcinol, and sulfur.
Don't forget to fallow with these simple things.
Once you have your cleaning regimen down there are a few other ways to help clear it away. Always remove sweaty clothing after a workout, wash undershirts after every use and clean your sheets regularly. Your skin has natural oils that it omits while you sleep so if your skin is in direct contact with your sheets and you don't wash your sheets and pillow cases regularly it can be a breeding ground for acne and other skin conditions. As always if all of these methods still can't take away your back acne check with a dermatologist to see if a prescription strength cream can help.