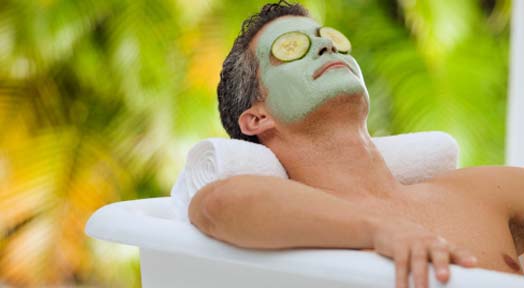 We've all seen pictures of women covered in goop with cucumber slices on their eyes... and we've all wondered why they do it. The answer is simple – it works. A facial mask can be incredibly effective for a variety of skin ailments. For instance, essential oils can be combined into a light cream that helps ease away wrinkles. Clay masks help draw impurities out of the skin, eliminating blemishes. Citrus and antioxidant blends help restore plumpness and tone. Treatments with minerals like quartz or mother of pearl can even out skin pigment and tone down red or swollen areas. If you wouldn't be caught dead in a salon with a facial mask not to worry. There are many masks you can make in the comfort of your own home using regular ingredients you probably already have in your fridge.
Oatmeal Facial Mask
- 1/4 cup oatmeal
- 1/8 cup warm water
- 1 Tbsp. Honey
Mix all ingredients and apply in a thin layer over your face. Leave on your face for 15 minutes or until hard then gently wash with a facial wash. Oats work wonders on acne prone skin by reducing inflammation and redness.
Strawberry Facial Mask
- 6 ripe strawberries
- 1 tbsp. olive Oil
- 2 tsp. honey
Mush strawberries until smooth then mix in olive oil and honey to form a paste. Spread paste onto your face and for 15 minutes or until hard then gently wash with facial wash. The strawberries are packed full of salicylic acid that strip off dead skin cells leaving your skin feeling baby smooth and the honey will help reduce puffy inflammation.
Still not convinced that a mask is right for you? Consider that the skin of your face and neck are the most delicate areas of skin on the entire body… which means they're also the first to show premature aging. In short, an ounce of prevention can go a long, long way towards projecting a youthful appearance. Just apply, close your eyes and enjoy the results. We won't tell the ladies.