Shaving Cream – How to Properly Lube your Face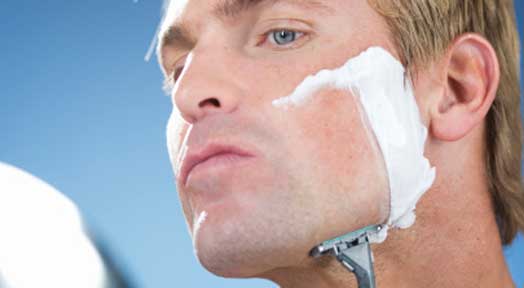 Shaving cream how to properly lube your face. For many men, particularly those who do not sport a full mustache and beard, shaving is an unpleasant daily chore. It is important to maintain a close, clean shave for a number of reasons and the right shaving cream is very important. Stubble can make a poor impression in the business world and with women.
Shaving cream how to properly lube your face
Achieving a nice, smooth shave can be difficult. The shaving process can be uncomfortable and can cause irritation later in the day. Electric razors are one option, but they are not guaranteed to give a closer or more comfortable shave than a regular razor. You also need to take in consideration all factors such as the shaving cream you use to lube your face and shaving technique.
Choosing the right technique
There are a number of techniques that can be used to make shaving more tolerable. It is fairly common for men to skip some of these steps for a number of reasons. We are usually pressed for time in the morning. We may hang on to a disposable razor for too long in order to save a buck. We may not want to commit the necessary time and expense to maintaining a proper set of supplies. We may skip shaving on weekends, making the Monday morning shave worse. In addition, most of us are not experts on shaving, especially since few men receive a shave from a barbershop and straight razors are a throwback to another era.
Take the time to prepare
We can easily learn and remember the basics, though. The best procedure is to prep the face properly and use a clean, new or properly maintained razor. Prepping can be done with a hot towel, which softens the skin. Washing the face is also recommended. Next, a clean razor will be more effective and cause less irritation. Nevertheless, in between the prep and the razor, we need something to lubricate the surface of the skin and create a barrier between the razor and our faces. The best option here is shaving cream.
Get a nice lather
Shaving cream is better than any of the alternatives for facial lubrication and protection. Dry shaving? No comment. A water only wet shave will provide some protection for the skin, but there still might be some tugging and pulling. Good old fashioned bar soap is another option. While many men use this, and it provides decent protection for the skin, it still has disadvantages. The biggest downside to using bar soap is that it is not designed to be used on the face, so it can dry out the skin. This is not just a concern for metrosexual types. Dry skin can be itchy and uncomfortable, and in some cases, it can make the face look worse than if someone did not shave.
Find one with moisturizer
Most brands of shaving cream contain moisturizers to prevent this effect from occurring. Shaving cream is generally inexpensive, so there is no downside. It provides more benefits than any of the alternatives and does so at a reasonable price. Shaving cream is worth considering for men who do not currently use it and would like to find a way to achieve a smoother, more comfortable shave. Knowing all of our options is the first step toward that goal. Next is making sure we follow through instead of hitting the snooze button one more time.
Most Recommended