The Best in Cheap Shaving Products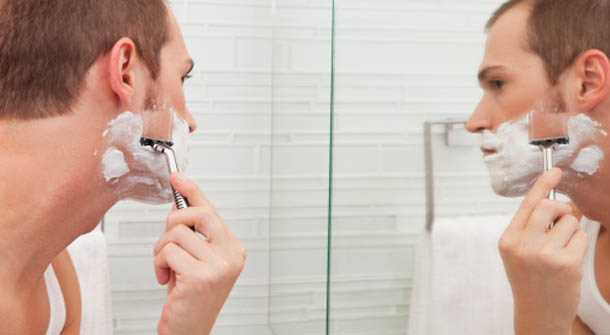 Okay guys, as much as we hate shaving, it's a part of life (unless you just have a beard, but we'll get to you guys in a minute). If you've ever used cheap shaving products, you know that this can be a rough place to cut your budget. So are there any inexpensive products out there that won't leave your face burning? Let's take a look at the best in cheap shaving products.
The best in cheap shaving products
Let's start with a good lather.
If you prefer shaving cream to gel or soap, check out Every Man Jack. A tube of this shaving cream will only run about $6, and it will help you to cut back on razor bumps. An added plus – it's not oil based. Now this isn't that foam stuff. It's actually a cream, so get a shaving brush for a few dollars because you'll want to lather this up in your palm and brush it on.
What razor should you use?
Let's leave electric razors out of this since they are often expensive, and we're looking for a good close shave. I'm a big fan of the Gillette Fusion Power series. You can pick one up for about 10 bucks on Amazon, and they aren't much more in the store. You can get away with spending $50-75 a year on blades depending on how quickly you go through them. All the Fusion blades fit all of the Fusion razors, but the more expensive ones have a coating to make the razor glide better, so don't waste money on a Proglide and then just get the normal blades.
Cool down
After you're done shaving, cool your face with Nivea for Men Replenishing Post Shave Balm. For about $7 you get instant relief after your shave is complete. The replenishing formula is good for moisturizing your skin and provides vitamins E and B5.
Razor bump gel
If, despite your best efforts, you are still struggling with razor bumps, don't give in to despair. Clubman makes a razor bump gel that sells for approximately $8. It fights off the bacteria that characterize razor bumps and ingrown facial hair.
If you have a beard or mustache you still need to keep up your maintenance
Okay, now for you guys who let the facial hair grow in. Whether you have a full beard or any of the many facial hair styles, you need to keep it well trimmed. Trimmers can get expensive, but not a Wahl. You can pick up a basic one with some pretty decent attachments at Walmart for under $15.
So there you have it. Shaving is a chore, but hopefully these products will make it a little easier on both your face and your wallet.
Most Recommended