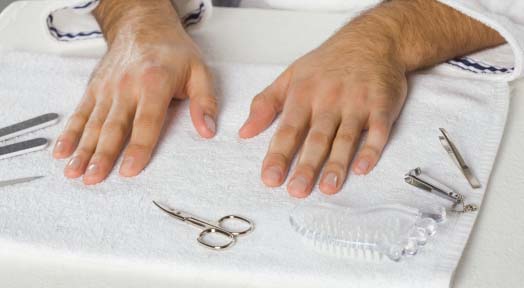 Gone are the days when manicures were for ladies only. Even if you are a manly man going to a salon and getting a manicure for men is something you will inevitably have to do in your life one day. If you are interested in getting a manicure for men but aren't sure how they work we have a step by step guide for you
Make an appointment
The first step you have to take is either making an appointment or showing up to a nail salon. This can be difficult for you if you are a manly man. But if you make an appointment you will have a commitment. Once you get the manicure you will be happy.
Relax and enjoy it
Don't worry about the stigma that comes with being a guy, these salons see men in their shop all of the time. The first thing the nail technician will ask you to do is sit in the chair. Most women are asked to pick out the color, but we are assuming as a manly man you won't be adding hot pink to your nails. After you are situated they will begin by cleaning your nail bed and removing your cuticles. This part can be slightly painful for some people but if you are a manly man it shouldn't cause you much discomfort.
Massage and polish
Once your nail bed is clean it will be ready for trimming and a final protective coat of polish. Don't worry they will use a clear coat and you can request it to be non-shinny so it won't stand out. You can even get an arm, hand, foot and calf massage which makes the whole experience totally work it. The final product will be clean, neatly cut, and polished fingernails. This isn't anything to be ashamed of, your hands are a product of hard work be proud of them.
Do it yourself
If you don't like the idea of getting a professional manicure you can always do it yourself at home. If you do you will need the following supplies:
• Nail file
• Nail clippers
• Cuticle cream
• And small tweezers
Once you have your tools you can follow the professionals directions by softening your nail bed with cuticle cream, removing the skin, clipping your nails, and filing them for shape. Apply a gel coat and viola! You have manicured nails without all the drama of going to the salon. Nothing unmanly about that!