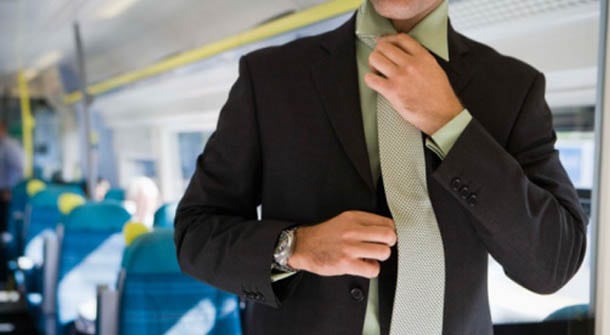 The tie is a men's fashion accessory that every man at some point in their life must wear. Whether your job requires you to wear them on a daily basis, you have to go to a wedding, or other formal event it's a great idea to have a few quality tie's in your wardrobe.
Tips on How to Wear a Tie
If you wear a tie every day to work you probably already have quite a few ties in your closet. It is what really makes the outfit and you can wear the same pants and a white button down shirt every day and as long as you pair it with a new one that's all people will notice.
Mix up your color combinations
You will want to keep a variety of colors and fabrics and make sure they represent your personality. If you have a sense of humor or work with children you might want to try some funny ties with characters or more daring color. If you work in a corporate setting, a traditional or conservative tie is the best route to go. Just remember the more your tie stands out the less likely you are to wear it multiple times since you will probably get a lot of comments and complements whenever you wear it.
See what the TV anchors wear
For nice color schemes and matches tune into the nightly news and see what the anchors are wearing. Another good place to look is football pregame shows where all the broadcasters are in suits and ties. All of these ex athletes and TV personalities will give you an idea of what is in style and still looks manly. Remember all of these TV show have a staff of professional to pick out their look so paying attention can help clue you in on the latest suit and styles.
Big Occasion Tie Wearer
Now if you're the type of guy who only wears a one when you have to attend a funeral, wedding or other formal event it's still a good idea to have a few traditional ties stashed away. You will want to stick with solid colors like black, red or blue and have high quality material like a silk blend. Polyester neckwear looks cheap and will fade and show its age so stay away from that.
Solid color neckwear with patterns is timeless so you don't have to worry about looking like your uncle Frank and his faded tie with paisleys. No matter how often you wear a tie you want to make sure it hits right above your belt buckle and is the appropriate width. Learn how to tie a Windsor knot and if you prefer you can always store your tie with the knot in place and just slide it on to fit.