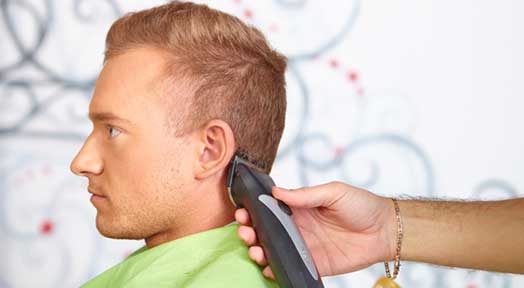 Tips for cutting and styling fine straight hair. Always lamented your thin, straight locks and wondered what on Earth to do with them? You might be surprised to know that hair experts and guys with very wavy or curly hair often envy your hair type, as it's generally the easiest to tame and the easiest to work with. Fine, Straight hair usually has a soft texture, although it can be coarse or flyaway. It's typically shiny, has a tendency to lie flat, and lack volume. Men of East Asian descent and men of Scandinavian or Northern European descent are most likely to have this type of hair. If you've got straight, fine hair, lament no more.
Tips for cutting and styling fine straight hair
We've made things easy by complied some dos and don'ts when it comes to styling and cutting.
Don't buzz your hair off very close to your head, especially if you are blond.
This move can reveal too much of your scalp and make your hair look even finer than it is.
Don't grow your hair in a long and blunt style.
This style requires more upkeep than most guys realize. Fail to trim it and keep it combed, and you run the risk of looking ratty, unkempt and indifferent. If you have dry and brittle hair, growing it long is pretty much like putting a spotlight on its defects. And because your hair's so straight, even if it's shiny and healthy, a long hairstyle can look boring at best, and like a sad attempt to recapture your youth at worst.
Don't grow your hair very long on the top and cut it short on the sides.
First of all, this "bowl" haircut will just lie flat and lifeless on your head. It also likely resembles a style your mother made you wear in grade school. It's a little boy's haircut, and a definite no-no.
Don't part your hair in a straight line down the middle (like a Hansen brother), or too neatly on one side (like Opie Cunningham). Just don't do it. It's all kinds of wrong.
Don't slick your hair back.
This is an especially big no-no for those with fine, straight hair. You need to try for more volume, not accentuate your hair's tendency to lay flat.
Do keep your hair on the shorter side.
Hair is healthier and fuller the closer it is to the root, and keeping it moderately short gets rid of dry ends and gives the illusion of thickness.
Do choose messy layers instead of a blunt cut if you want to keep a longer look, and do keep your hair above shoulder length.
Do leave your hair a little bit longer on the top than the sides to give it some extra volume. However, make sure it's a graduated effect that blends in neatly.
Do have your hairstylist work in a part that follows the natural line of your hair (which will not be the middle) and doesn't look too pronounced or intentional.
Do go with a natural hairstyle that makes the most of any volume you have.
Do opt for light, non-greasy products made specifically for fine hair. Light mousses and gels are great tools for adding volume and structure to your hair, and a light conditioner will add shine and body without weighing your hair down.