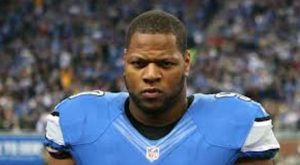 Detroit Lions defensive tackle Ndamukong Suh knows what it is like to be fined by the NFL. In his short three-and-a-half year career, Suh has been fined by the league seven times, including his latest for a hit on Cleveland Browns QB Brandon Weeden during the Lions' 31-17 win last Sunday.
On the hit on Weeden, NFL vice president of officiating Dean Blandino said that Suh made contact with the forehead-hairline. Any time a player makes contact with his forehead-hairline, they are "leading with the head" which is prohibited by league rules.
After reviewing the play, Blandino determined that Suh's hit on Weeden was worthy of a fine. This one was for $31,500. That's nothing, though, compared to his fine for throwing a low block on the Minnesota Vikings John Sullivan earlier this year. Suh received the biggest fine in NFL history – $100,000 – for that one.
Suh, among the most hated players in the NFL according to fans, earned much of that hatred for his antics on Thanksgiving Day in 2011. In the Lions match-up with Green Bay that day, Suh pushed the head of Green Bay's Evan Dietrich-Smith into the ground several times and stomped on his arm. Suh was penalized and ejected from the game. The NFL suspended him for two games without pay.
A year later in the Thanksgiving Day game in 2012, Suh kicked Houston QB Matt Schaub in the groin. The result was a $30,000 fine.
Suh has tallied a grand total of $209,000 in fines in his young career. While it is surely a nuisance to the 6-foot-4, 300-pound Suh, he can afford it. He is in the middle of a five-year contract that will pay him a total of $68 million.
Fines collected by the NFL are used to support a variety of programs including those for retired players. The fine money is also donated to various charitable organizations and causes. Organizations like the Red Cross have benefited greatly from donations from the NFL.