Best Style Guide For Your Summer Vacation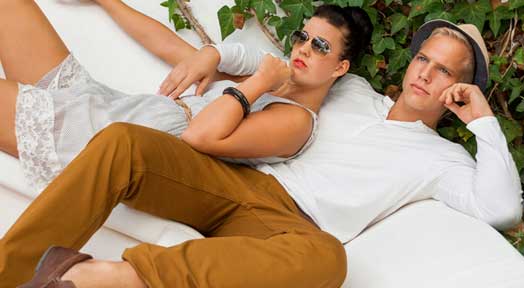 The summer vacation style guide for men. Throwing on an old T-shirt and a pair of blue jean shorts is not any form of men dress style and it's just not going to cut for real summer fun. The way you dress says a lot about you and when on vacation it is important to enjoy trips in style. It is not that there is anybody to impress, but men have the right to look and feel good about themselves while staying comfortable in hot summer weather. The tips in this summer vacation style guide help give you a look you can feel confident about while providing the right about of comfort for summer fun. You don't need to toss your jeans out for the summer.
The summer vacation style guide for men
Some jean lovers start to get depressed when summer rolls around because they think wearing these comfortable old favorites might cause them to burn up in the summer heat. It is true that some jeans can help the wearer work up a good sweat, but that all depends on the type of jeans they choose. Jeans can still be included in your summer wardrobe, which is great because they provide the right amount of comfort needed for fun in the sun. Just stay away from the jeans made of heavier denim and choose ones that are lightweight.
Dressy casual look works well in the summer.
Even though summer activities can be very casual, you can opt for a look that is casual-smart. There are some very nice short-sleeve, button-down shirts available that give a hint of professionalism to your look. The great thing about these is that they go well with not just slacks, but jeans, and shorts. Just be sure to pick shirts that have light colors, like white and shades of blue.
Leave the shoes and socks in the wardrobe and opt for a sneakers.
Unless you are planning to play a few rounds of basketball, leave out the athletic shoes. Instead, opt for cool canvas sneakers or a pair of sandals. Flip-flops are still in style, but stay away from the cheap versions. The shoes you choose should be socks-optional and easy to slide on and off. These types of shoes are great for the beach. They protect your feet from the hot sun, but you can take them off quick when you want to get in the water.
A nice pair of shorts is also great for summer.
Lightweight jeans are not the only pants options for men in the summer. Many men wear shorts during the summer, but there is an art to this. Men's problem related to wearing shorts is not all about the way their legs look, but about the cut and style of the shorts. Try to stay away from wearing tight shorts, camouflage shorts, cut offs, running shorts, and basketball shorts. All of these can make men look very tacky. Be sure that when purchasing a pair of shorts you try them on and see how they fit you, taking note of the length.
Don't forget to add T-shirt to the list.
The T-shirt seems to be the summer time classic wardrobe piece. There are times when wearing a T-shirt is appropriate, but try to go for a V-neck and stay away from those that are white. This approach gives men the comfort and convenience of wearing a T-shirt while still being fashionable.
Most Recommended