How To Chose The Right Suit For Your Body Types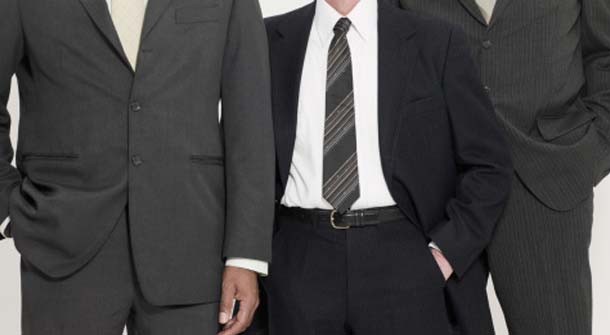 Different styles suit for different body types. The styles you wear can have a great affect on what people notice first about you, it should fit your body types perfectly. Use your fashion to hide flaws and accentuate the positive. Here are some tips for three different body types of guys: short, tall and thin, and husky.
Different styles suit for different body types
Let's start with guys who are a little shorter.
One of the key areas for you to focus on is the rise of your pants. That's the length between the crotch and the waistband. You want low rise pants that sit down by your hips instead of up near your belly button. This will make both your legs and torso appear longer. A slim or narrow tie is also a great idea even if you aren't super thin. The reason is that the length of your tie is going to make it appear wider in comparison anyway. A thinner tie will make the shorter length seem more natural. Also, you can use accessories to distract from the fact that your face is a little lower than they were expecting. Try wearing a hat to draw the eye up and give yourself an extra few inches. Dress boots can also give you a few inches and you can hide the heel by having your pants tailored a little long.
What if your body type is taller and thin?
Choose horizontal strips over vertical. Vertical strips will only make you look taller and thinner. Have a splash of color in your outfit. An outfit that is monochrome tends to be slimming which you don't need. Purchase fitted or slim fit shirts. Having a lot of extra material sticking out of the top of your pants is a great way to make your self look too skinny for your outfit. Even untucked, you'll want to wear fitted shirts. Layering up can give the impression of a little extra bulk. Don't wear skinny pants either. The thin legs will just make you look even lankier.
For a husky body type the opposite is true.
Look for vertical strips instead of horizontal. Wear darker colors and don't be afraid to go monochrome. Wearing a belt makes your waistline look slimmer so always tuck your shirts and belt up. Don't be fooled into thinking that buying oversized clothes will hide bulk. It will just make a person appear even bigger, so buy clothes that fit you well. Wear suit jackets with a single vent in the back, especially if you are self conscious about your backside. Double vented jackets draw attention to the rear.
Most Recommended