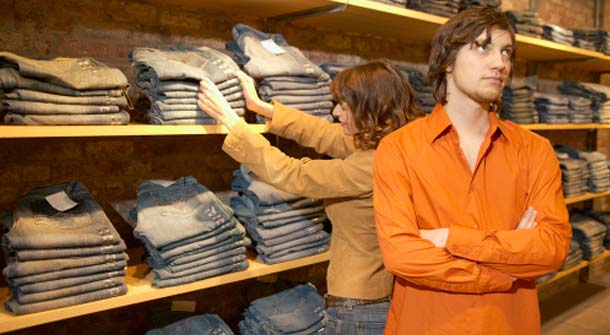 If you're chasing that fountian of youth or are just trying to keep your appearance up here are some common fashion mistakes men make when they're trying to look younger. Dressing too young
Common fashion mistakes men make
Fellas, the fastest way to age yourselves is to look like you're trying to recapture your youth with fashion mistakes. There's a range of severity here—dressing slightly younger than your age is a little sad—a decade or more and you're right up there with the combover—that awkward place where the remedy is worse than the ailment. One huge mistake many men make is to get stuck in the decade where they felt their best, and mistake a bygone trend for their personal "style." Work on defining your actual style: Edgy? Preppy? Classic? Then pay attention to how those styles are translated into today's clothes, and how guys your age are wearing them. Wear stylish, age-appropriate clothes and you'll knock years off of your appearance.
Overdoing it on the Self-Tanning
A healthy glow is youthful. An overdone fake tan falls under the category of "trying too hard." Natural sun tanning ages your skin quickly, and can set you up for a higher risk of cancer in the future. To avoid a look that's artificial or streaky, stay away from cheap tanning creams and less-than reputable spray tanning salons. If you're going with either of these options, do your homework and choose quality. But a better idea altogether for keeping your youthful glow may be simpler than you think: limit your sun exposure and adopt great skin care habits.
Bad dye jobs
While not as offensive as an obvious toupee, a noticeable dye job can give away your age quicker than your gray hair. After all, there's usually only one reason men dye their hair. If you plan to banish your grays, visit a salon for professional help, or if you really want to do it yourself, do your homework and choose the right coloring product.
A Bad Haircut
A haircut that's too young, too "hip," too long, too messy, too outdated, or just plain wrong for your hair type or face shape can age you rather than keep you youthful. The older you get, the neater you should keep your hair. A clean-cut look that's slightly longer at the top and a little spiky transcends age and looks good on a lot of guys. If you're not sure about which direction to go with your hair, flip through a men's fashion magazine. Check out the cuts and styles on men around your age. If you find a cut you like, take it to a stylist. She can help you modify it for your hair type.
The Wrong Accessories
Believe it or not, the same way your clothes can age you, your jewelry, shoes, watch and other accessories can age. Don't choose accessories that are too sporty or too youthful. Stick with classic, timeless looks. You can always find something a little edgy or with a modern twist if that's your thing. It's always safer to go a little more daring with your accessories than your clothes—just don't overdo it.