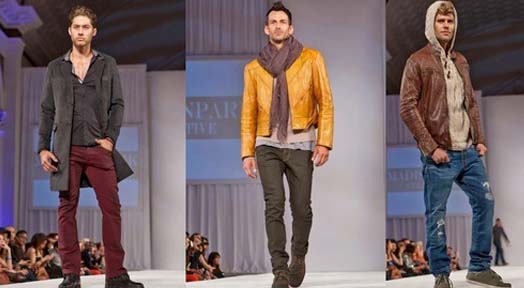 When it comes to essential trendy fall wardrobe pieces men, the classic black jacket will never get tired because it has always played such a key role. For those looking to make a different statement, a sporty quilted jacket is a new fad this fall that is ending up in more and more designers fall fashion collections. In the accessories department a vintage style watch with leather band with gold rimmed face adds a refined and masculine touch. But fashion isn't just about staples, it's about those other trends and combinations that bring out the individuality of the wearer. Here are some other essential pieces to have ready.
Essential trendy fall wardrobe pieces men
The Essentials:
• Straight legged jeans are the ideal middle ground for those who aren't into the super skinny trend.
• A well-made crew neck tee that didn't come in a pack of four.
• Bomber-style baseball jackets like Givenchy's slick zipper front black leather and wool varsity, are a mixture of plush suede, slim cut, slick fabrics and strong for those cool, casual days.
• Slim ankle-high boots give any pair of trousers that tailored look and updates any wardrobe
• Rugged hiking boots with corrugated soles that can tramp through anything
• Fifty Shades aside, charcoal and gunmetal grey suits paired with contrasting patterns are an easy statement to pull off. It's all about knowing what you want to say.
• For the cooler days, nothing beats a classic roll neck or turtleneck sweater under a double-breasted winter coat.
• A good tailor can help you make your wardrobe essentials even more amazing by creating the perfect fit.
Fashion for the Trendier Set:
In addition to the essentials, fashion designers are working with different shades and patterns that will really make men stand out during the Fall season.
• Following the trend of dark colors, claret, a deep wine red, is going to be a staple in fall. Prada's claret jacket paired with a complementary color, such as teal, dominated the catwalk and brings a sophisticated touch to any man's fall wardrobe.
• Chunky, broad knit scarves are popping up and provide a less cumbersome warm look and feel
• Oversized square patterned sweaters, knit vests and overcoats
Men's Fall Fashion has something for everyone and there has hardly been a time when there have been so many choices to look your best.