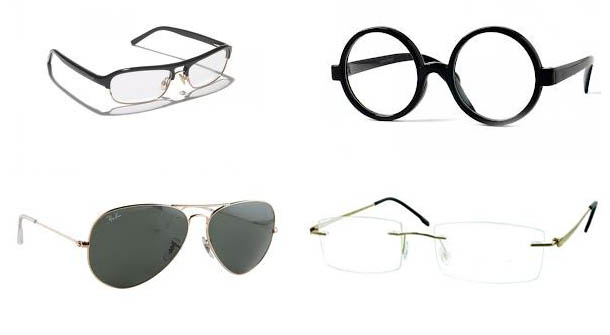 Designer eyeglass frame styles for men. While many have chosen to go with contact lenses to correct eye problems, others can't make the switch. Plus, with tons of designer labels jumping on the eyeglass frame styles bandwagon, glasses are so in right now, some guys with 20/20 vision are grabbing frames with just plain or anti glare lenses. The question is: What eyeglass frame styles are out there, and which one is right for you?
Designer eyeglass frame styles for men
Black rim frames have always been pretty classic.
It seems like right now thicker and more rectanglar shaped frames are in style. The key is to purchase frames that fit your face. Wayfarers are all the rage, but if your face isn't wide enough, avoid them. Catseye glasses are also available for men now, although you may feel like an old cat lady wearing them. Designers from Dolce & Gabana to Burberry are churning out all sorts of stylish black rimmed frames.
Tortoise frames are also growing in popularity.
Those are the brown mottled frames you see a lot of. If you decide to go with tortoise, much of which will depend on how it goes with your skin tone, just be sure not to pick frames that feature too much yellow or orange. You want your frames to be more brown.
Wire frames still exist
If you want some classic tiny, round, John Lennon-esque frames, these would be the way to go. More popular are rimless glasses. The lenses are just attached to the part the holds them to your ears. Some even combine styles by having a black rim at the top and sides of the lenses while leaving the bottom open.
A new edition on to the designer frames scene is Warby Parker.
If you want to get some stylish frames without having to spend all year paying for them, this may be the designer to go with. Plus, if you have a handlebar mustache, you can buy a prescription monocle from them to complete your classic super villain look.
In the end, you will have to make your decision in the store.
If you really can't see without your glasses, be sure to bring someone you trust with you when try on glasses so they can tell you how the frames look. Never buy the first pair you try on unless you go through several others and can't find anything else that looks as good. If you are shopping for sunglasses, just be sure to follow the same rules about getting ones that fit your face.