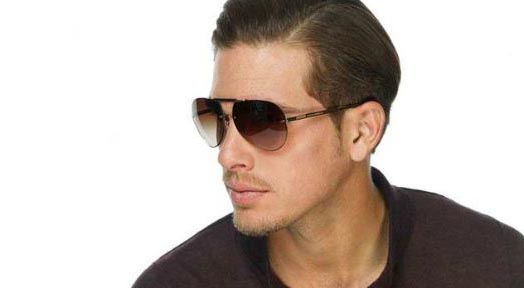 The right sunglasses for your face shape. Maybe it's the fact that they hide your eyes and make you look mysterious. Maybe it's that they suggest some kind of sun-soaked adventure in a cool place. There are dozens of reasons to love sunglasses, but sunglass styles do change over time. And not every style of sunglasses is suited to every face. Depending on your face shape, sunglasses can either accentuate your best or your worst features. Remember, no matter what your face shape is, choose a size of sunglasses that's proportional to your face size.
The right sunglasses for your face shape
Oval Faces
If you've got an oval face—a face that is only slightly wider at the center and rounded at the top and bottom, congratulations! Pretty much any style of sunglasses will work for you.
Square Faces
Square faces are relatively the same width at the top and the bottom, and tend to have angular, strong jawlines and wide cheekbones. If this describes you, choose oval or round sunglasses. Avoid angular sunglasses, which will accentuate the angles in your face. Also, stay away from sunglasses that are too large or too wide—they'll draw attention to the width of your face.
Rectangular Faces
Rectangular faces are longer and narrower than square faces, but they tend to have similar angles. Opt for frames that are tall (to make your face seem shorter) and wide (to make your face seem more broad). Of all the face shapes, you can probably pull off oversized or wrap sunglass styles the best. Round or square frames will both work well for you, but round is best if you have particularly sharp features.
Heart-Shaped Faces
Heart-shaped faces are broad at the forehead, broadest at the cheekbone area (which tends to be wide and pronounced), and narrow at the chin. Avoid wide frames or frames that are embellished at the sides, as they can accentuate your forehead and temple area. Choose narrower frames that are proportional to your face. Round lenses are best for you, as they'll soften your angles.
Diamond-Shaped Faces
Diamond-shaped faces taper at both the forehead and the chin, and tend to have broad, angular cheekbones. Choose oval frames or rectangular frames with softer edges to balance your face, Y (no wider than your cheekbones) Make sure your frames are not wider than your cheekbones.
Round Faces
Round faces are, well, round. They have broad chins, broad cheeks and a broad forehead, and tend to be on the fuller side. If you fall into this category, look for sunglass frames that are slightly wider than the widest part of your face. Choose narrow horizontal lenses to make your face look longer and thinner, and look for angular geometric shapes to balance the curves in your face.