Upgrade your Wardrobe With These Essentials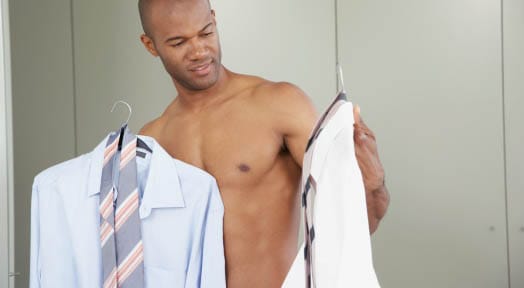 Essentials to upgrade your wardrobe. If you think that fashionable upgrades and shopping for clothes are just for women, well think again. Gone are the days when fashion is all about women. Right now, men's fashion is for everyone who wants to look good and who wants to be taken seriously. So don't be surprised to see hordes of men checking the latest sartorial offerings in a fashion blog or discover more and more men visiting department stores to upgrade their wardrobe. But how do you make the appropriate choices, given a long list of sartorial options to choose from? If you are planning to upgrade your wardrobe as well to look good and feel good, where do you start with the selection process? Read on, and find out which clothing and items should form part of your closet or cabinet.
Essentials to upgrade your wardrobe
Khaki Pants for Business
What should serve as the basis for your everyday office looks or meet-up with college buddies? You can't go wrong with the khaki pants, now made available for everyone since these are available in different price points. Look for pants that fit and very relaxed. There are different brands to choose from including Ralph Lauren and H& M.
Reliable Blue Jeans
Don't just shop for designer jeans that come complete with accessories and other trimmings that make you look like a second-rate jobless man on the street. Look for the classic favorite that can be worn in many events and occasions- a solid dark blue without the usual accessories.
Sneakers for Regular Walks
Sneakers are the classic favorites especially by university boys and those fresh from graduate school. You can also shop for designer sneakers, provided these are clean-looking and stylish. Go for the off-white version of classic Chucks.
Impress With Cashmere Sweater
Yes, you need to shell out some cash for this type of sweater but you can be sure that this is a worthy investment. The good news is that cashmere sweaters are now available in many price points, thus these are now made available to many men out there.
Go Flexible With Blue Blazer
If you want a go-to clothing that can work for you every time, on every occasion then you need to count on the services of the blue blazer. The great thing about the blue blazer is that you can partner this with almost any type of clothes, and you can channel different kinds of personalities and styles. You can mix and match using the blue blazer to come up with the modern, traditional and preppy style.
Gray and the Different Kinds of Suit
A list for men will never be complete without adding a few suits, especially the gray suit that can be added to the closet. If you are a working professional or you simply want to be taken seriously, then you need to pay attention to at least one suit in your closet.
Use this list as your inspiration when building your wardrobe. There are other must-have pieces for men, but you can always start your shopping and collection with these items!
Most Recommended