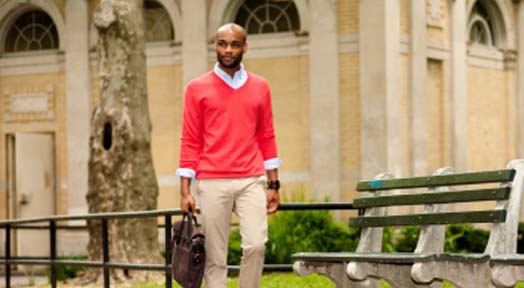 Fall sweater styles for men. Fall is in the air and with the cooler weather rolling in men's style is changing. This season is all about evenings spent warming next to the fire sipping brandy while recalling the day's events. Of course, every year new styles are unleashed from the runways that make men envious of their slick styles. Luckily for you we are on top of our sweater game and have a complete breakdown for both styles and fabrics of the best sweaters styles for men this fall and winter season.
Fall sweater styles for men
The V-Neck.
As the name implies the V-neck sweater is easily recognizable for its slight V shaped neck line. These sweaters look perfect under blazers and can also be complimented with a tie underneath. V-necks come in several different colors so choose them according to your color preferences.
The Turtle Neck.
Turtle necks have been popular for 50 or more years and are a sophisticated mans sweater. Easily worn underneath suits and blazers, they are great for the business setting.
The Crew Sweater.
The crew neck sweater has a powerful masculine style and neckline that reveals any items worn underneath. It is the perfect cold winter weather sweater to wear along with a heavy winter coat. Crew sweaters should be a staple item in any man's winter wardrobe.
Polo sweaters.
Polo's exude a sophistication and preppy style that pair well with a sports coat. When wearing a polo sweater be aware of both the thickness of the material and the color combination you choose. These sweaters can come across as pretentious if worn improperly.
Unbeknownst to many men there are more than two different sweater fabrics. But when choosing the best fabric for you consider the characteristics of each type of fabric.
Cotton Sweaters.
Cotton is a fabric that actually breathes even against hot skin. It is low in cost as a fabric and it can be worn underneath heavier down coats also. If you have a tendency to run a little on the hot side then consider choosing cotton as your winter sweater fabric. It looks great, feels great, and has an affordable price tag.
Cashmere Sweaters.
Cashmere is an expensive fabric that comes from the hair of the Kashmir goat. If you have the cash flow to justify the purchase of a cashmere sweater then consider purchasing one but only wear it on special occasions. This fabric is extremely hard to clean and some find it slightly irritating against the skin.
Synthetic Fabrics.
Most synthetic fabrics resemble cotton in their structure and price, making them a perfect option for an everyday sweater to wear. Don't be surprised, however, if your synthetic fabric sweater starts falling apart after a few washes as it can be very finicky.
There you have it, the most popular sweaters this fall and winter season. Choose wisely my friends and stay warm!