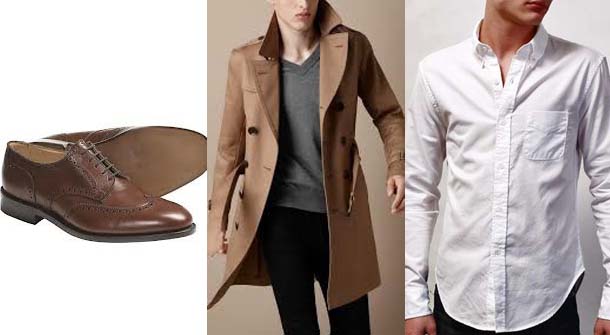 Many styles of fashion come and go, but there are some fashionable items that seem to have a timeless quality and fit in no matter what type of style you have. We've put together a list of 4 timeless style items that men should own because just like the versatility of a woman's little black dress, these choices for men are just as important to looking good.
Timeless style items that men should own
Brown Wingtip Shoes
This shoe is as versatile and effortlessly fashionable as any item out there. Don't let the "old fashioned" design fool you, this shoe looks fantastic whether you pair it with a great suit at the office or with a great pair of jeans for casual date. The brown color allows the shoe to meld well with many different colors and styles of clothes, so the next time you're out pick up a stylish pair of brown wingtips… you'll be surprised at how much you use them.
Casual Cashmere Sweater
For a casual or semi-casual occasion, a high quality cashmere sweater is the perfect choice to look stylish without a great deal of hassle or thought put into styling. Whether you choose a lightweight option for a spring/summer look or a more heavy option for fall/winter, this item is a timeless and very easy ability to adapt to a variety of styles from young and hip to classic and old-world handsome.
Basic Trench Coat
Humphrey Bogart made the trench coat what it is today by creating a timeless ideal of a suave, sophisticated man without even trying. The trench coat can be dressed up or dressed down depending on how you pair it with other items. You can pair it over a stylish suit and go for the smooth businessman look or you can dress it down and put it with a pair of chinos and a stylish sweater that makes you look debonair without going over the top.
Basic White Button Down Men's Shirt
A white button down has the ability to blend in or stand out with the look, it is versatile and timeless. Whether you match it up with a casual pair of jeans and a t-shirt leaving it untucked or pair it with a quality black suit and a colorful tie, the white shirt will make you look cool, stylish and well put together with very little effort.