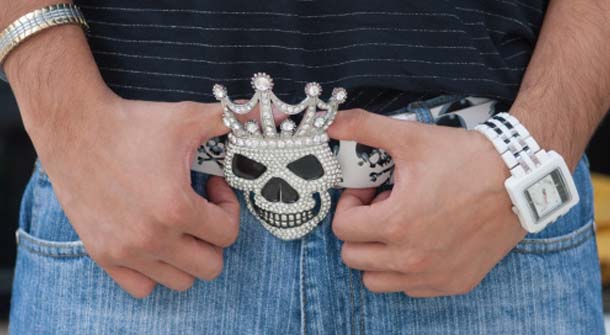 Blame Hollywood, or hipsters, rock-n-roll fashion stylists, or even the rise of geek-chic, but there are an awful lot of dudes drawing attention to their belt buckle these days.
Is your belt buckle awesome or just plain cheesy?
You can go blingy with simulated-jewel encrusted buckles, or snarky with clever sayings or graphics depicting your oh-so-unique world view, or you can even go old school with a logo from Atari or some other defunct 80s or 90s brand. Of course, there's still the cowboy-up version earned at rodeos and other such functions.
But are any of these appropriate ways to say, "I'm a fashionable modern man" in today's day and age? Although some small factions will disagree, we're going to draw a line in the sand and say no for a couple of reasons.
Never wear a belt buckle to the office
One of the most important is the rise of belt-free fashion and the casual workplace. If you can wear jeans to work, and if you're ever wearing jeans out in public, there is rarely (if any) reason to belt up. Now, if you're looking to rock the soccer mom look circa 1992, by all means, belt your jeans and don the wackiest buckle you can find. Even khakis and chinos are a belt-optional choice of attire in many instances. Unless you wear a button-up shirt with your casual cotton slacks, you can skip the belt (and the buckle).
If you rock the belt buckle make sure you have the physique
As to the subject of "personal expression," there are far, far better ways to make a statement than with your gut. Your shirt, your watch, pithy cufflinks, dress shoes, and sneakers are all sophisticated ways to make your look your own without jumping on a trend bandwagon. And, all are much more confident ways to make a statement because they don't involve emblazoning your likes/dislikes/ideologies right across your midsection. Leave that to the real cowboys and heavyweight champions of the world.