Flattering Men's Suits For Your Body Type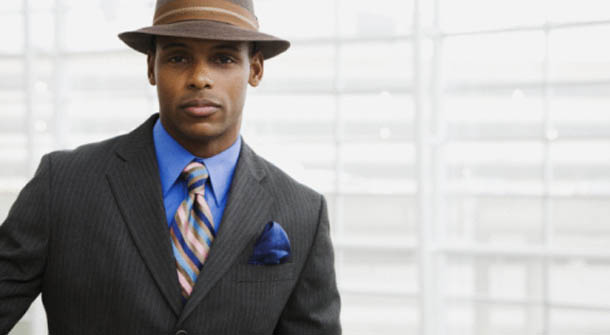 When it comes to wearing a suit there is usually a reason for it whether it is a job, an interview, or a wedding. Looking great in your suit is usually one of the biggest draws. However, some men find it difficult to truly look great with all the necessary pairing of shoes, ties, shirts, the cut of the suit and more. So we've put together a few tips on how to find the right suits for your body type and look great for any occasion.
Tips for Find the Right Men's Suits For Your Body Type
Make Sure it Fits Correctly
Even the most expensive suit is going to look less than stellar if it doesn't fit your body right. Arms that are a little too long, pants that are a little too short… an ill-fitting suit is the worst offender when it comes to men's attire. Ensuring a proper fit can make it look great on your body whether it is an off-the-rack suit from Sears or an expensive tailored one from a men's boutique.
Make Sure the Suit Fits Your Body Type
The task of finding the right men's suits for your body type and looking great is more than just the fit or what you pair it with. It is also about the style in relation to your body. If you are short you'll want to stick to single-breasted suits because double-breasted will give the look of drowning in the fabric. If you're a little hefty around the middle you'll want to wear, that has a lower buttoning jacket as it gives the appurtenance of a longer, slimmer frame.
Make Sure that You Chose the Right Accessories
Beyond the cut and fit of the suit is what your pair it with. Your accessories such as a tie, button up shirt, shoes, etc will make or break the suit, so chose wisely. A navy suit works well with a black tie, white shirt, and black oxfords while a tuxedo pairs well with a silver tie, white shirt, and black patent leather shoes. Don't over-accessorize with too many things such as going with cufflinks, handkerchief and tie pin all at once; giving something to make it stand out like a great pair of cufflinks can be a statement piece and just what it needs to pull the look together, but if you use too much of statement pieces it can overwhelm and bring down the look.
Make Sure to Wear it with Confidence
Once you've put the look together the best way to look great is to wear it with confidence. Confidence can take even the cheapest suit and bring it up a notch or two because people recognize your self-assurance and poise. It automatically overlaps that confidence with the suit, giving it a more put-together look. So while putting on the right men's suit for your body type don't forget to wear it with a little swagger. Confidence can do wonders, so even if it fits a little wrong or the tie doesn't pair as well with the color, make sure your back is straight and your smile is out and you will look great no matter what.
Most Recommended