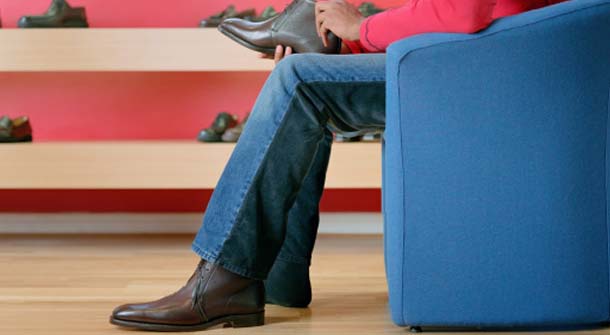 When you go men's shoe shopping the quality and care of your shoes speaks volumes on your personality and social status. More than any other item in a man's wardrobe, your shoe style tells people about your cleanliness, work ethic and your outlook on life. It is an old saying that shoes are what makes a man. If you are not very familiar with the shoe department, here are some tips before you go shoe shopping.
Men's shoe shopping
Don't Be Pennywise and Pound Foolish
Keep in mind that you get what you pay for. Your shoes are something that you will wear everyday with multiple outfits. Even if you finances are tight you should invest in a pair of well-made shoes. Chances are they will last much longer and if cared for properly will maintain their shape. If you select shoes made of real leather with tough stitching and strong everlasting soles, they may just be the longest lasting item in your entire wardrobe. You can even have them resoled and treated for additional life.
Try them on at the Store
When you go out to shoe store make sure and bring the appropriate sock with you. If you are searching for dress shoes bring dress socks and if you are shopping for athletic shoes bring the same socks you plan to work out in. Never put your faith in those stockings they have at the store. They may throw off your fit and won't give you the proper feel. Also sizes may vary from manufacturer to manufacturer so be sure to try on multiple sizes to make sure you have the best fit.
Shop During Low Peak Hours
If you want to get the personal attention from the sales reps get to the store on a Sunday morning or weekday evenings. This way you will be able to try on multiple shoes and get better customer service so you won't be tempted to take the first pair you try and walk out.