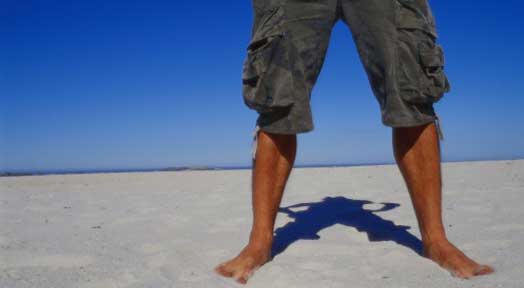 Every man needs a few great pairs of shorts in his closet for those warm weather days. But before you dig out your old threads for a trip to the beach or a summer party there are a few essential things to keep in mind. It is just like any other piece of clothing change styles and there are age appropriate ones for each cut. And since most people aren't lucky enough to live in an area that you can wear all year round it's easy to hang onto older pairs that just don't need to be in your wardrobe any longer.
Top guide to what shorts to wear and how to wear them.
Cargo Shorts
Cargos are great for any age from young boys all the way up to men. However a few rules to the style and your age apply. When it comes to the pocket size larger pockets are for the younger crowd, the older you get the smaller the pocket should be. Also when it come to the length leave the longer, distress and faded looks for the young guys and older men should have a clean pair above the knee in traditional colors like khaki, army green or navy blue.
Flat Front Khaki Shorts
Pleated anything is just plain outdated so if you own pleats please throw them away immediately. A nice pair of flat front khaki shorts can be used from casual to dressy so keep a clean pair for everything from hitting the golf course or a posh pool party.
Jean Shorts
We have to give you a strong caution when it comes to jean shorts. There are very few that are still in style and if you have cut offs please discard them immediately. Any jean shorts that are still fashionable must be to the knee and lighter weight denim.
Fashion Shorts/ Capris
If you are a stylish type of guy it's ok to go for fancier prints or capris. These might cost you a little more however if you get good use out of them they could be a good investment. Make sure the patterns and colors still go with the rest of your outfit and aren't too loud. If you want to kick up your color do that with a bright shirt.
Board Shorts/ Swim Trunks
Even if you are a guy who is not big on shorts at one point or another you will need a pair to go beachside or hang by the pool. Board shorts are a great style that can be age appropriate from younger to older. Again as with the cargos keep the longer cuts for the young guys and older men keep your shorts around the knee. Make sure the waist is secure because the last thing the ladies want to see is your plumbers crack when the water weighs down your shorts.