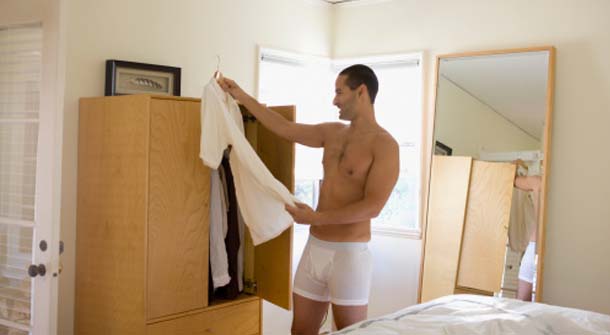 Oh yes the question every woman is thinking when she is dating a man before they take that next step. Boxers or Briefs? This seems to be a highly debated topic and almost all men usually have a strong preference one way or the other. So if you happen to be one of those guys who are on the fence we have a guide to help you find the right style and fit for you.
Boxers:
What they say about you is that you like comfort and tend to be more laid back. Some of the pro's are they come in a wide variety of materials and patterns (stick to the traditional and lose the juvenile prints), secondly since they are not as snug they leave a little to the imagination and are not too revealing if you are on the heavier side, and thirdly your body temperature stays lower which is really important if you are trying to conceive. Most importantly let's face it if someone accidentally see's you in your underwear you would probably be glad you're wearing boxers. Some of the con's are they lack structure and support, boxers can bunch under certain jeans and dress slacks, and if you get a little excited down there you can easily see.
Briefs:
What they say about you is that you are more traditional and prefer structure. There are men who like to wear briefs on a daily basis while some use them for workouts or certain outfits only. Some of the pro's are they provide support and prevent dangling, they stay in place and won't ride up and they look best on guys with a nice physique (just think Calvin Klein commercials). Some of the con's are the fly is harder to use, they can stretch out and sag in all the wrong places and those "tighy whities" tend to get dingy and have aging stains.
Boxers or Briefs
What they say about you is that you are hip and you like the structure but still want comfort. Most women think that these are the sexiest type because they take the pro's from both of the other styles and equal out most of the cons. By far the boxer-brief is becoming the more popular choice for men.
No matter what style you choose any pair that is faded or has holes needs to be tossed. The most important thing is that what you wear must feel comfortable on you.