What Is Men's Street Style Fashion?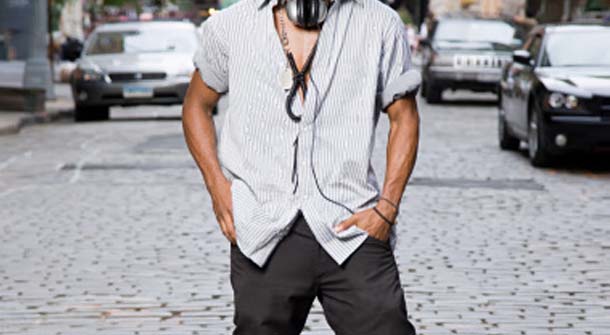 You've probably heard the phrase "men's street style" get tossed around a lot. What exactly is it? The short answer is that it is exactly what it sounds like. It's the clothes that a man chooses to wear on the street. Check out any street style blog, and you will see just about every type of style (and some that shouldn't be considered a style). If you live or work near a main road, what can you expect to see out the window?
Check out these insights into men's street style
Fashion has grown more and more important to men. Women judge a book by it's cover just as much as men do, and style tips abound. So what should you put on to run to the grocery store, the bank, the post office, or just to go for a leisurely weekend stroll down the boulevard?
Add color to your wardrobe
Spring and summer have brought bright colors to men's wardrobes. Whereas we call these colors pastels on women, the term chalky colors has been used to manly things up a little. Primary color pants are also the order of the day, with guys touting bright yellow and red pants along with blue pants that are anything but your normal denim color.
Sport a strong pattern
Shirts and even jackets are starting to see a trend in strong patterns. Any time of repeating shape seems to be free game. Ties and also bow ties have been seen in outfits on the road for guys who want to look a little dressier. More comfortable materials may mean a few more wrinkles, but a cotton suit seems to look even better when it isn't perfect. Clothing ranges from slim to baggy, but slim fitting pants are definitely popular for men, and suits that are tailored rule the day.
Relaxed but savy style
Of course, more relaxed styles are frequently seen as well. Button down shirts in bright colors and patterns are paired untucked along with shorts, while other guys on the street tout print t shirts and jeans of every wash. Sometimes the pant legs are even cuffed at the bottom. Dress shoes, casual shoes, flip flops, and even various types of boat shoes are part of the diverse footwear.
So the fact is that men's street style is pretty much about individualism. It is whatever you want it to be. Anything you deem worthy of wearing out in public is your own personal street style. Just don't try and make a fashion statement by walking around in your pjs. This is a public street, not your local Walmart.
Most Recommended