What Men Look Says About Them In Fashion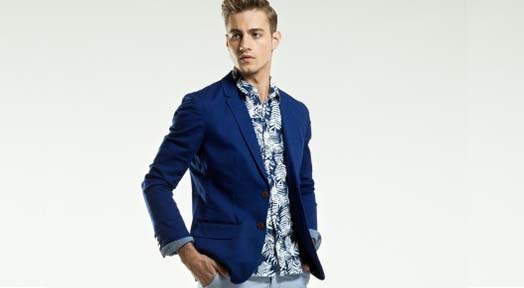 What men look says about them. It's an unfortunate fact about men fashion. When a man meet someone new, they will size you up within three seconds. That's long before you have a chance to show off your wit or charm. So, they are judging you on . . . your look. But what if your look says the wrong thing about you? Here are three classic fashion looks-gone-wrong, and how to tweak them to make them say what you want.
What men look says about them
1. The Too-Casual Look.
This look says good things, like "I'm easy, I'm comfortable, and I'm approachable." But it can also say "I'm lazy," "I'm clueless," or "I can't be bothered." Fortunately, you can keep your easy, low-key charm, and still look stylish and put-together.
Figure out what you like. Be proactive. Look at guys on the street or flip through men's magazines, and think about which guys have a look you'd like to emulate.
Keep it Simple. Buy a few of each of the basics, like jeans, dress shirts, dress pants and casual shirts, and rotate everything around. This way, you can just reach in your closet – in the dark, if need be — and still look good.
Invest in quality. More expensive clothes are made better, and it shows.
Keep fit in mind. Take the extra time to try everything on — in the store — and make sure it fits perfectly.
Accessorize. Accessories show you have a sense of style. Try a nice-looking watch, an interesting belt or a cool pair of sunglasses.
2. The Way-Too-Put-Together Look.
This look can say "I take pride in my appearance, I'm confident, and I know who I am." But it can also say "I'm unapproachable and authoritative," or "I'm vain." Fortunately, this is one of the easiest fashion looks to remedy.
Keep things in balance. You can wear the crisp, carefully-chosen, expensive shirt. Just soften the look by wearing it with jeans.
Keep it soft and warm. Leave the power colors for work. For social situations, choose inviting, warm neutrals, such as browns, and soft colors, such as light blue. Choose soft, natural fabrics like cashmere or cotton or wool blends. And choose a haircut that's neat, but doesn't look like it's shellacked in place.
Keep a sense of humor. Have a little fun with your clothes. This can mean anything from whimsical cufflinks, to a super-cool watch, to a retro shirt.
Keep it timeless. Avoid following crazy trends, especially if you're over 30. Pair subtly trendy items with classic, timeless pieces, and you'll always look polished and sophisticated.
3. The Trying-Too-Hard Look.
This look can take a lot of forms, from the guy trying to recapture his youth, to the guy who wants to make an artistic statement, to the guy who's determined to prove he's an individual. Here's how to march to the beat of your own drum, while still staying stylish.
Dress your age. Strangely, wearing clothes that are too youthful is the easiest way to age yourself. Wear stylish, neat, age-appropriate clothes, and you'll instantly drop years off of your look.
Keep it low-key. Your whole outfit doesn't have to scream who you are. A couple of carefully-chosen accessories or an article of clothing in your own quirky style will do just fine.
Balance, balance balance. Got a loud, funky shirt you love? Pair it with a neutral pant or jean and keep the accessories to a minimum.
Come back from the edge. Edgy is one thing. Harsh, unapproachable, or just plain weird is another. If you want to be taken seriously, stay you, but tone it down and soften it up.
Most Recommended