What Is the Benefits Of Using a Loofah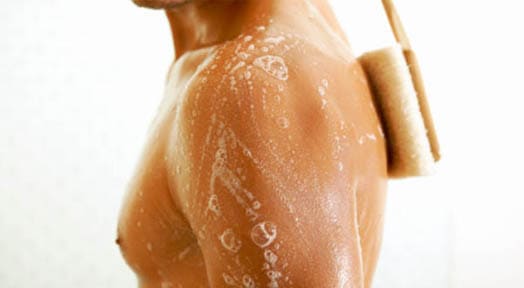 Maybe it's not something you'd admit freely to using but you should give the loofah a chance. But, as many men who have tried it have discovered, a loofah can really change your shower routine for the better, even if only on a trial basis. You might even be surprised to find you can't do without it after a while.
Give the loofah a chance
Some folks use the term "loofah" as a catch-all phrase that encompasses any kind of bath sponge. However, a loofah is technically a natural sponge that comes from a dried gourd that's grown on a vine. Yes, really. It's porous, grayish-green in color, and abrasive to the touch. The fluffy, colorful balls that hang out in the cosmetics aisle at the supermarket or pharmacy are actually called "poofs." They're made from netted synthetic fabrics that are tied together in the center. They don't have nearly the abrasive quality of natural loofas, but their netting makes them rough enough for a good scrub.
Why use one?
Both loofahs and poofs give you superior cleansing. They allow you to scrub, rather than just wash, and they lather up very nicely, which lets you get into sensitive areas and crevices that are tricky to reach with a plain bar of soap (not to mention tricky to rinse clean).
As well, because they're abrasive, loofahs and poofs can slough off dead skin, oils and grime, leaving your skin smooth and healthy. And since men generally have more of dead skin, oil and grime embedded in their skin than women, it makes even more sense for them to use something that exfoliates. Exfoliation helps prevent blemishes and breakouts on all parts of the body. Also compelling is the fact that loofahs and poofs seem tailor made for body washes.
Absorb bodywash better than a wash cloth
Many guys prefer body washes, over bar soaps, as they tend to offer more choices for specific skin types, they have nice, long-lasting scents, they don't leave a film, and they produce a nice lather, which, as we mentioned, can get you a better clean. However, using body washes with your bare hands can be problematic; most of it tends to slip off skin and head down the drain. With a loofah or poof, a little body wash goes a long way, creating enough suds to get you clean without using half the bottle in one shower.
To use a poof, just add a little body wash, massage the soap into the poof until it lathers, and get to scrubbing. Always squeeze it thoroughly and let it drip-dry after use to avoid the colonization of bacteria. Replace your poof when it begins to fall apart—they're cheap and easy to find (even if not in the manliest selection of colors).
Keep it dry and change out frequently
If you're planning to go the natural route and use a real loofah, keep a couple of things in mind. First, loofahs are very hard to the touch and very abrasive before their first use. You'll need to soak yours in warm water to soften it before you use it. After use, squeeze the loofah out thoroughly, and let it air dry in a warm place. Because it's natural, bacteria grows more easily on the surface of a loofah, so you may have to replace it more often. If it starts to show signs of dark discoloration on the edges or interior, it's time to chuck it.
If you like the idea of a loofah or poof, but the idea is too much for your masculinity to handle, consider trying out the Old Spice Deck Scrubber, the Axe Detailer, or the Dove Men Care Dual-Sided Shower tool. And happy scrubbing!
Most Recommended