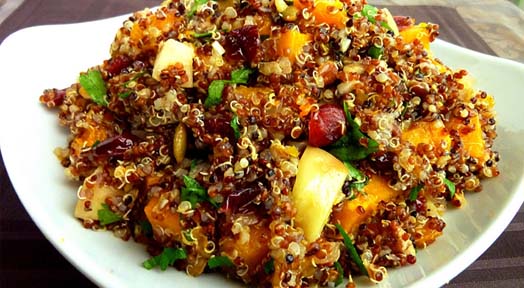 We need protein to build muscle and we need muscle to lose the fat. So what do we do when we need protein but don't eat meat? We eat meat free protein. Although most enjoy lean cuts of meat from time to time it's understandable how many prefer to stay away all together. Here are a few great vegetarian protein choices that will allow you the necessary protein to burn the fat & keep you fuller in the process.
Top Vegetarian Protein Sources
Eggs
Nuts
Beans
Soy
Tofu
Oat
Quinoa
Cheese
Milk
Remember, you burn more calories digesting protein than carbs or fat. The more muscle you have the more calories you burn throughout the day, the key to a good metabolism. Aim at having 1/3 of your total calories to come from protein.
One of the top 3 on our list is Quinoa! Quinoa contains twice the protein of regular grains, contains less carbs, is high in fiber, has healthy fats, phosphorus, and calcium and is high in iron! A win win for anyone. Check out this simple yet delicious recipe.
Red Quinoa w/Chickpeas & Butternut Squash Recipe
Ingredients:
1 small onion
3 garlic cloves
1 tablespoon vegetable oil
1 teaspoon chili powder
2 cups Quinoa
2 cups of chopped butternut squash
2 cans of chickpeas (rinsed)
1 bunch fresh cilantro
2 Tablespoons of sun dried cranberries
Directions:
Prepare Quinoa per package (Quite simply boil in water until cooked)
Chop onion, crush garlic, and fry over medium heat until soft in a large skillet or frying pan (Deep enough to hold all the ingredients)
Add chili and cook for another minute
Add butternut squash & and let simmer until butternut squash are tender (about 20 minutes)
Add beans allow it to heat through for a few minutes
Chop the cilantro and add it in
Remove from heat and allow cooling.
Add the sun dried cranberries & Enjoy!
Also keep in mind Quinoa is tasty warm or cold!