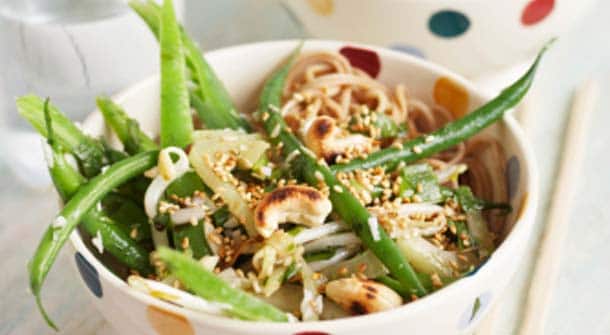 There's a lot of things Western culture just gets wrong one of them is eating fit habits being one of the worst. Since the typical American lifestyle is go go go all the time, processed food and fast food has increasingly made there way into our regular diets. The fresh food we do eat is so polluted with pesticides, questionable farming methods and GMO's that it's no wonder why the typical American waistline is increasing at a substantial rate.
There is a reason the eastern culture is more about healthy and eating fit habits.
To preserve your health and wellness, take a tip from Eastern culture, specifically Japanese cuisine eating fit habits. Buckwheat noodles provide whole grain nutrients and cleansing while whole snow peas add tasty digestible fiber.
Soba Snow Pea Succotash Recipe
Ingredients:
1 package (2 servings) Soba (buckwheat) noodles
¾ pound snow peas (in pod)
¾ cup corn
¾ cup diced carrots
¾ cup diced zucchini or yellow squash
4 Tablespoons low-sodium soy sauce
2-4 Tablespoons sesame oil (those will allergies can substitute olive oil or canola oil)
1 Tablespoon honey
1 pinch red pepper flake
Salt and pepper to taste
Bring saucepot of water to boil. Add Soba noodles according to package instructions.
While noodles cook, heat a medium size non-stick sauté pan or wok to medium-high heat. Add enough oil to lightly coat bottom of pan. Add all vegetables and toss quickly. Add salt and pepper. Continue to sauté. When noodles are done (approximately 10 minutes), remove from heat and drain. When vegetables begin to get tender turn heat to medium-low and add noodles, honey, soy sauce and continue to stir until all vegetables and noodles are lightly coated with sauce. Add red pepper flake (optional) at end, before one final toss. Serve.
Can be eaten as is for a vegetarian main course, or with bite-size shrimp or chicken if desired. This flexible and sustainable meal will give you the energy boosting goodness that body needs and the delicious flavor your taste buds crave.