Farmed Salmon: Is it as Bad as People Claim?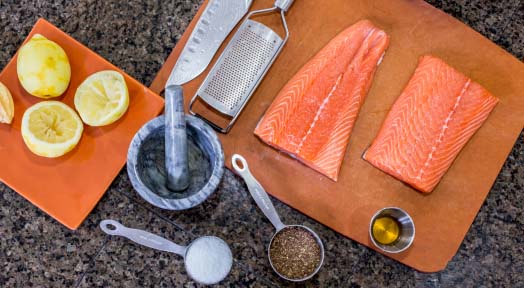 It seems that these days, things just go from one extreme to the other. Say somebody makes a conscious effort to eat healthily. Rather than eating processed junk foods, they'll instead purchase super organic, free range, grass and grain fed meat, or seafood that's so fresh out of the ocean, it's still covered in sea water, along with organic vegetables grown in lush countryside in amazing conditions. These organic foods are great there's no denying that, however, when it comes to your bank balance, then things aren't quite as great take a look at farmed raised salmon for instant farmed salmon is healthier than you think.
The real deal on farmed raised salmon
Obviously you shouldn't be able to put a price on your health, but sometimes things can just be ridiculous. Because of this, you have people living on the other far end of the spectrum. They just can't afford to splash out on expensive organic foods, so they just think "what's the point" and stick with cheap frozen processed foods packed full of artificial additives, flavorings and preservatives. How about meeting in the middle people? There doesn't seem to be much middle ground these days, but with a little information, and a little research, people wanting to eat healthily and naturally, can actually do so, without breaking the bank. In this article we'll be looking at one of the healthiest fish to eat in the world today, salmon. More specifically, farmed salmon, and we'll be looking at whether it's as bad as some people claim.
What are some of the advantages, and disadvantages of eating farmed salmon?
Farmed salmon are, as you'd expect, salmon which are bred in captivity, in specially designed salmon farms. Because of this, people tend to be concerned that they're not as healthy as salmon which is caught from the wild. Which to some extent is true however it does not apply to all varieties.
Obviously, wild salmon is generally better. It isn't bred in captivity, so it eats a wild diet instead of enriched feed that can contain chemicals to enhance their color and other fillers to keep them fat. Also some of the over crowded and less reputable salmon farms have been known to contain sea lice and other disease.
Advantages
It is important to note that not all farmed salmon fall under that category and can still offer you a number of advantages. The first being, that it's much cheaper than wild salmon. We'd all eat wild salmon regularly if we could afford to, but for many, this just isn't possible. Farmed salmon offers these people a cheaper alternative. Salmon is rich in protein, as well as Omega 3 fatty acids. These fatty acids are known as "good fats" and are great for your joints, your brain function, your skin, your hair, your mood, your digestion, protein synthesis, and much more too. Farmed salmon is believed to provide just as much of these fatty acids, as salmon from the wild.
Some comment on the taste. While farmed salmon can taste great, for most there really is no comparison to wild salmon. If it's just taste you're after, then wild salmon is usually the clear winner. However there are those out there that prefer the farmed salmon taste to the wild so it can almost be called a draw depending on the person.
However, with that being said, farmed salmon still tastes great, and farmed salmon is healthier than you think it is still packed full of beneficial natural ingredients, and above all, is much more affordable than wild salmon. Try the more reputable farms from western Canada and parts of Chile for the best and most reputable standards.
Most Recommended