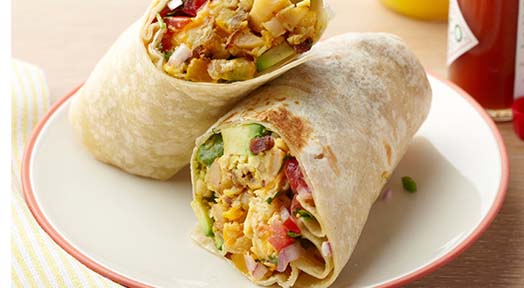 If breakfast is the most important meal of the day how come so many of us just don't eat it? Running late, slept in or just not hungry in the morning are common excuses however skipping out on breakfast can ruin your diet or exercise goals. In the morning when you get up your body is like a machine you need to warm up and fuel up to make it through the day. Breakfast can kick start your metabolism and give you more energy to perform. Don't let your morning rush get in the way of having breakfast there are many items you can prep ahead of time with some quick breakfast ideas to grab and go. If time is your problem we have the answer with Five quick breakfast ideas you can make in five minutes or less.
1. Breakfast Burrito
Scramble two eggs and sprinkle some fat free cheddar, salsa and avocado on top. Wrap in a whole wheat flour tortilla and head out the door.
2. Protein Shake
Start with a handful of frozen fruit (banana, strawberry, etc.), 1 low fat yogurt, ½ cup low fat milk, and a scoop of protein powder. To make it even easier use a personal blender such as the magic bullet where you just blend it up and take the cup with you to go.
3. Toaster Waffles
Try a whole grain or buckwheat toaster waffle with peanut butter and jam. These can be prepared to bring with you on your commute or make at work.
4. Healthy Granola
Beware of not so healthy granola with extra sugar, fat and preservatives. Go with organic brands such as Bear Naked Fruit and Nut with low fat milk or milk substitute.
5. Bagel with egg whites
Use egg whites by egg beater and scramble or quickly fry them in a pan and put on top of a whole grain bagel for a convenient tasty way to start your day off.