Avocado Health Benefits Even More Reasons to Enjoy It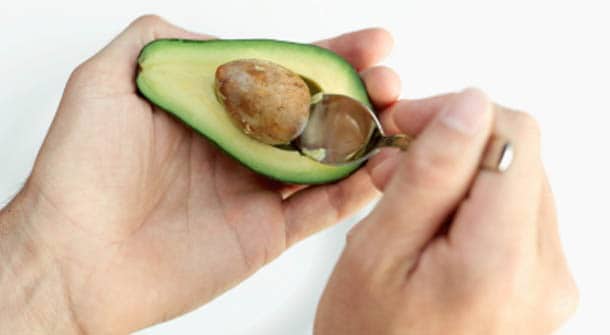 Not too long ago, we told you about the amazing health benefits of eating Gluthianone one of the key components of avocado. It got us thinking about more ways to enjoy this green giant in the anti-aging foods category. After all, there's only so much guacamole any one person can eat, right? The trick is keeping the avocado uncooked to preserve the antioxidant properties of gluthianone.
Avocado Health Benefits and How to Eat More of It
Improves Heart Health
It's well known that avocados are packed full of vitamins and essential fatty acids but did you know they contain a plant sterol called beta-sitosterol? It might not sound that interesting but beta-sitosterol is a phytosterol is known to reduce LDL cholesterol levels in the blood. Further reducing your risk of cardiovascular disease.
Other amazing avocado health benefits
Avocados contain high amounts of natural fiber which helps improve digestion and prevent constipation. It acts as a natural detoxifier by promoting regular bowel movements. They also contain high amounts of lutein and zeaxanthin, two phytochemicals that provide antioxidant protection in eye tissue to minimize UV ray damage. Avocados are high in folate which combats depression and high in vitamin K, calcium, and vitamin D to promote bone health. So not only is it delicious but it is one of the top superfoods for good reason.
How to eat more avocado
Avocados are a great topper for just about any salad or sandwich. You can mash them for guacamole or avocado toast. An avocado smoothie or avocado pops is perfect for a hot day. You can also make salad dressing, hummus, and soups. With the versatility and creamy texture of Avocados they just make every food better. So try this refreshing chilled soup recipe from the folks at Farm Fresh Miami as a way of mixing things up.
Avocado Vichyssoise Recipe:
1/2 white onion (chopped)
4 garlic cloves (slivered)
1 tbsp. olive oil
4 potatoes (peeled and cut into 1/4 pieces)
4 cups vegetable or chicken broth
3 medium avocados (chilled)
Juice of 1 lemon (optional)
pinch of salt
Put potatoes and broth in a pot and simmer until potatoes are tender. Sweat onions and garlic in olive oil until golden brown. Puree potatoes and onion/garlic blend in blender, strain (if desired), and cool in the refrigerator for a couple of hours. Once the soup is chilled, blend with avocados and lemon juice. Add salt to taste. Serve in chilled soup bowls. Serves Four.
Most Recommended