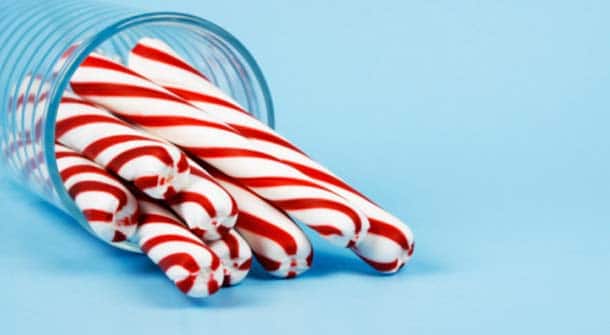 Every December we start seeing candy canes and striped peppermint disks in almost every candy dish. And although there will be plenty of not-so-good-for-you treats mixed in for good measure, indulging in a one or two can actually be very beneficial.
Amazing Health Benefits of Peppermint
Natural Digestive Aid
Peppermint is a natural digestive aid – reducing gas, bloating and nausea. In fact for most patients diagnosed with Irritable Bowel Syndrome (IBS) peppermint oil capsules are one of the most effective natural ways to help alleviate symptoms and generally one of the first one's recommended by doctors. Even if you don't have IBS you can consider all the holiday food you're sure to be snacking on, a couple in your pocket can be a smart idea.
Appetite Suppressant
As well, it works to ease hunger pangs when inhaled, due to a calming influence the scent seems to have on the brain. Levels of the stress hormone, cortisol, are lowered, which in turn helps curb the desire to eat or snack after stressful or challenging situations (and let's face it – the holidays are stressful).
Decreases Inflammation
The amazing benefits of don't stop there. Peppermint essential oil inhaled, has been shown to decrease inflammation of the lungs in patients with tuberculosis. The extracts from Peppermint leafs aid in histamine release which can help alleviate seasonal outdoor allergies and the aroma of helps enhance memory and improve overall alertness.
Dry Skin Remedy
You can also use peppermint externally to help alleviate some common cold-weather complaints. Dry skin responds well to diluted peppermint oil, which provides non-greasy moisture and a fresh, gender-neutral scent. Simply apply creams or lotions with peppermint oil to dry spots and massage until absorbed. The mint qualities will also help alleviate mild muscle soreness when applied the same way.
If you suffer from itchy or flaky skin (as most of us do in the winter), or if you find dry, itchy scalp becoming more of a problem in cold weather months – bring a little peppermint to the rescue. It naturally eases itching and inflammation associated with minor skin irritants. Now that's a fresh idea.