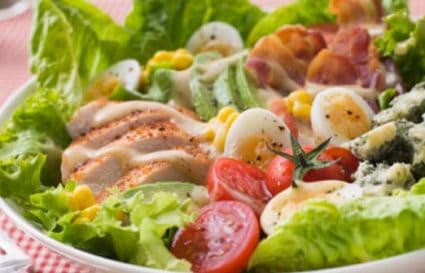 Living in a fast paced, fast food nation it's no wonder why obesity is at record levels in the US. That is why we are doing our part by helping to give you Health Fit Recipes for Men that are healthy, easy to make, and easy on the pockets. Join us on our journey to teach everyday men how to make a real meal. An easy fan favorite is our grilled chicken salad. Simple to make and tasty! If you are a fan of cobb or chopped salads this will be a sure hit.
Health Fit Recipes for Men Part 2 – Grilled Chicken Salad
Ingredients:
• 1 stalk Romaine Lettuce
• 2 Chicken Breast
• 2 boiled eggs
• 4 pieces of center cut bacon (optional)
• 1 medium tomato (chopped)
• ½ onion (diced)
• 1 Avocado (diced)
• Low Calorie Honey Mustard Dressing
• Olive Oil
Method:
• Season thawed chicken breast with olive oil and sprinkle with salt and pepper. Set aside
• Boil eggs and fry bacon
• Cut lettuce, tomato, onion and avocado and place in large zip lock bag
• Chop boiled eggs and bacon and add to lettuce mixture.
• Add 2 tbsp. of low cal. honey mustard in large Ziploc freezer bag, seal, then shake contents until lettuce is evenly covered in dressing. Put in bowls and set in fridge to chill.
• Grill chicken breasts on medium-high heat for 20-25 minutes until internal temperature is 150 and juices run clear.
• Chop grilled chicken; add on top of salad mixture and bon appetite you have a healthy yet manly salad.
The whole process will take 30 minutes or less if you prepare ahead and you get a healthy salad that is actually a whole meal. To keep it on the healthy side don't use cheese or creamy dressing. This simple substitution can go for a long way on saving calories. This recipe makes two large salads if you are cooking for one just divide ingredients in half.