Protein Bar Recipes you Can Do at Home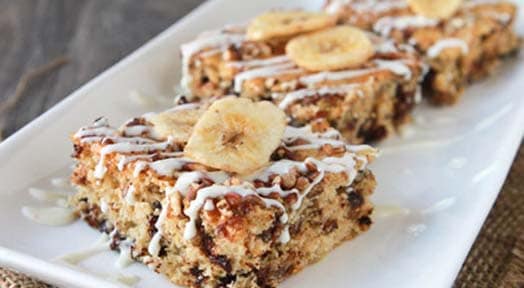 Your body needs fuel to get through a good workout that is something that we all know. So are you looking for a great pre or post workout snack without all of the added sugars and calories of store bought protein snacks? Well look no further than your own pantry for common ingredients to make your own protein bars right at home. Try out out these easy to make protein bar recipes for a healthy and delicious snack.
Easy to Make Protein Bar Recipes
Vegan Peanut Butter Oatmeal Protein Bar
Ingredients:
– 2 cups dry Oatmeal
– ½ cup scoop of Peanut Butter (the natural oily kind mix the best)
– 4 scoops of protein powder
– 1/4 cup of almond milk
Method:
Thoroughly mix all ingredients in a large mixing bowl. The mixture should resemble a paste with a think yet spreadable texture but not watery. You can adjust the amount of almond milk to make sure you achieve the right mixture. Once you have the mixture right spread into a greased casserole dish and make sure the mixture is about ¼ inch to ½ inch depending on your personal preference. Then place the dish in the freezer for 45 minutes. Makes about 8 bars.
Chocolate Banana Flavored Protein Bars
Ingredients:
– 2 cups dry Oatmeal
– 4 scoops protein powder
– 2 eggs (use egg white only if you want to reduce calories)
– 2 over ripe bananas
– 2 tbsp. pure honey
– ¼ cup low fat milk
– ¼ cup dark chocolate chips
Method:
Preheat oven to 350 degrees before you start mixing your ingredients. Add all ingredients except chocolate chips in a food processor and mix until blended thoroughly. Once blended fold in chocolate chips and press mixture in to greased pan. Bake for 15-20 minutes until a fork comes out clean in the middle. Allow to cool before you cut into squares and enjoy. Makes about 8 bars.
Chocolate Covered Vanilla Coconut Protein Bars
Ingredients:
– ¼ cup grated coconut
– ¼ cup coconut flour
– 4 scoops vanilla protein powder
– ¼ cup low fat milk or milk substitute
– ½ cup dark chocolate
Method:
Set aside dark chocolate in a separate glass bowl. Mix all remaining ingredients by hand or in a food processor until you get a thick spreadable but not watery paste. Drop mixture in greased casserole dish and press flat. Place casserole dish in freezer for 20 minutes. Once the bars are ready cut them into eight square. Bring a pot of water to boil and place glass bowl of chocolate on top of the boiling water to melt. Try to find a bowl that can rest on top of the pot easily and stir constantly making sure no water splashes in chocolate mixture. Remove bowl from boiling pot and dip protein bar squares. Allow them to dry before eating. Makes about 8.
Try out these easy and tasty protein bar recipes for healthy and cost effective way to fuel your body.
Most Recommended