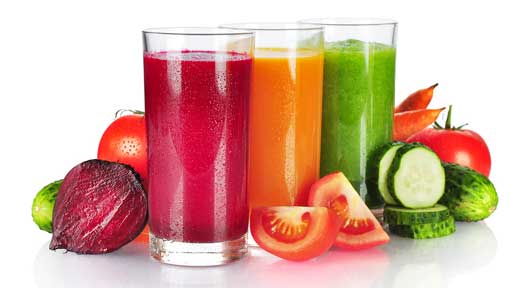 We all love our meat and potatoes, however the problem is that our body has to work extra hard to digest those sorts of things. There's also an issue with blood acidity, since most of the foods that we love turn acidic in the body. Because our bodies are meant to be just slightly alkaline, this can result in all sorts of issues from premature aging to cancer. Juicing is a quick way to give out bodies a break.
Juicing suggestions to revitalize your diet
First of all, don't just jump into a juicing cleanse. You're going to go through withdrawal. Cut back on caffeine, meat, and refined sugars in the week before you do the cleanse. Start eating more fresh fruits and vegetables. This will keep down headaches and cravings when you do the actual cleanse. Get yourself some all natural gum that is sweetened only with Stevia. This will help you not to miss chewing (trust me, it's a big deal). No sugars or artificial sweeteners in the gum. These are extremely acid forming in the body and will defeat the purpose of the cleanse.
Get a decent juicer.
A 350 watt one that you got for free with an exercise plan isn't going to cut it when you are making half a dozen juices a day, especially if you have a friend or significant other joining you for support. You can get a decent juicer for under $100, and it's worth it because after the cleanse is over, you'll want to keep having one juice per day to get extra fruits and veggies. Plus, you'll crave the energy. Juicing is like taking a shot of vitamins and minerals directly to the bloodstream. It can be pretty habit forming.
Try to have your juices be various colors.
Start with juices that are based on carrots and oranges in the morning. A sweeter drink can help you to be excited about a day of juicing. During the day, you'll need a lot of greens. Kale is probably the best and you should put 6 to 8 leaves in most of your drinks. Beets are super healthy and can be used to make a red drink during the day.
Just be sure that all your root vegetables (beets, carrots, etc) are organic. Root vegetables absorb everything that gets sprayed on the soil and it isn't a cleanse if you drink poison all day. For dessert at night, make a drink with blueberries. It's a superfruit, and tastes delicious. Sweet potatoes add consistency to drinks, and makes them feel more substantial. Cucumbers have a lot of juice and can make green drinks refreshing.
Use things like hot water with lemon, herbal tea (unsweetened), and coconut water (with no additives) to break up the day. About three days of juicing will switch your cravings from chips and ice cream to fruits and vegetables, and it will really help to get your body back to an alkaline pH.