Cleanse Diet The Right Way to Do it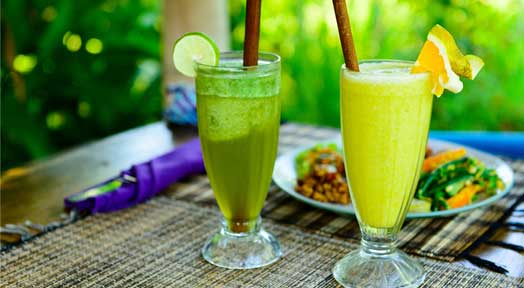 Extreme cleanse diet "The Master Cleanse" or the "Cabbage Soup Cleanse" may help you shed some weight fast, but at a high cost. These hard core starvation cleanses can cause vitamin deficiencies, slowed metabolism, blood sugar problems and muscle breakdown.
It is never good to go on a starvation diet.
If you want to try a cleanse diet to lose weight and detoxify your body we do not recommend starvation cleanses in any way shape or form. A great mild cleanse to start out with would be a seasonal food cleanse that incorporates vegan organic foods with a few days of raw foods. You can have delicious recipes to choose from and are allowed to eat as much as you want as long as it stays within the guidelines of being in season and vegan.
We recommended the body a few times a year.
A few mild cleanses a few times a year are believed to flush toxins from the body that are left behind from ingested processed foods, alcohol and caffeine and will bring forth clarity and energy. If you tend to be stubborn by nature and feel that you have plenty of energy and focus, even after drinking a bottle of wine the night before, you should still give a mild cleanse a fair trial. It may be a bit difficult at first to let go of your non vegan staples like meat and dairy and it's also recommended that you avoid alcohol which for some is a total deal breaker. But after the first day or two you will really start to feel the difference in your energy levels and more importantly on the scale.
Reasons why we recommend cleanses of the body.
Most people do cleanse diet because they want to get rid of "toxins" or lose weight. Our bodies are very capable of detoxing on their own, and even though cleanses can enhance this process, "detoxing" is not exactly why we like to do cleanses or why we recommend them. Although cleanses may help you lose weight initially, it doesn't last if you go back to your old habits. We also don't believe in cleanses that are actually fasts masquerading under a different name.
We like cleanses because they make us more aware of bad habits and help us create new good ones. After following a simple cleanse (7 to 21 days), most people begin to notice how much better they feel, even after a couple of days. It's a feeling that can become addictive and encourage you to continue with your new healthy habits (even if it's just sometimes). Most of us genuinely want to be lean and healthy, and if you gradually commit yourself to new healthy habits, you can reach your goals. Cleanses just reinforce these good habits, reminding us how to eat and be healthier.
Most Recommended