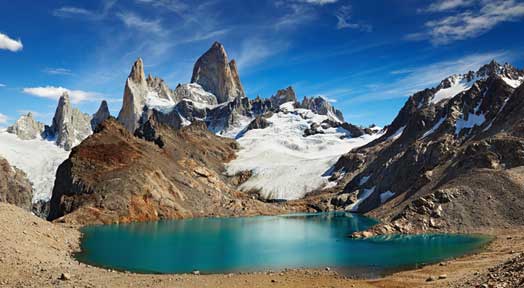 From its lively population to its vast and sprawling interior, Argentina delivers a range of experiences as diverse as its massive landscape. But it's not just the subtly beautiful scenery that wows visitors; it's also the country's healthy attitude towards enjoying life.
A travelers guide to vacationing in Argentina
Buenos Aires
When you travel to Argentina you'll likely begin your journey in the beautiful city of Buenos Aires - out of all of the South American capitals it is rated to be one of the top places for excitement, charm and truly interesting landscape and activities. It's a fun place explore, stop by coffee shops , or vendors for sweet treats, hang out and watch the scenery, shop, or just relax and take in the incredible atmosphere. Its many neighborhoods named "barrios", are each special and unique, some quaint and classic, while some are daring and modern. The common theme shared by all is a passion for camaraderie.
The seasons are different so be prepared
Remember, if you visit during the summer months of June, July and August – the seasons are reversed south of the equator which means Argentina's weather will be closer to that of winter and early spring. Don't let this discourage or postpone your visit, however. This can be a refreshingly different time of year to visit.
Hit the Slopes in the Andes
For one thing, ski resorts along the Andes Mountain chain are open – providing some of the most breathtaking (and often times challenging) skiing in South America. What's more, the downtown areas are still bustling and full of things to do, there are just fewer tourists pushing things to the point of being crowded. This means that eating at any of the many amazing restaurants and cafés will be a much more intimate and all the more memorable experience.
You must try the Parilla
Food here truly centers around one main dish – beef – for which the entire country is famous. Vast ranches abound in the rural areas where meat is raised on some of the greenest, most extensive pastures known to cattle – and under some of the most pure and organic conditions. The parilla (grill) is a tradition with generous portions and high-quality ingredients put into every meal. To Argentines, everyone deserves to eat like royalty, and it truly shows in the preparation and flavor of their steaks, sausages, cheeses and more. And to provide the perfect complement to any meal – Argentine red wines are among the most cherished and esteemed the world over.
Fueled by high-quality meals, you're ready to explore the thrills of this energetic country. Join in on a game of futbol. Ride the pampas (plains) in the town of San Antonia de Areco, which welcomes visitors to observe (and participate in) the traditional Gaucho (cowboy) lifestyle. Then, even further south – in the world's most southerly town of Ushuaia – you can follow in the footsteps of Charles Darwin himself and hike glaciers while snapping pictures of puffins, penguins and whales. You'll be in great shape and you'll be exercising the idea of freedom to its fullest.