Amazing Hotels at the Top of the World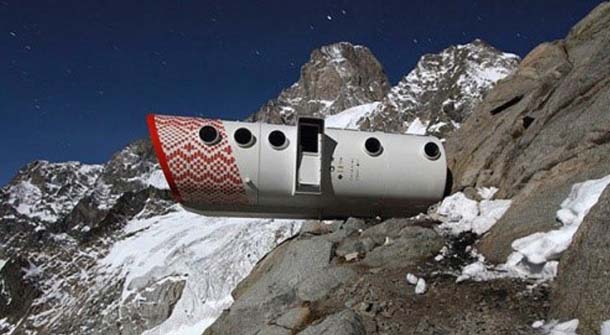 There are undoubtedly some amazing hotels around the world from winter wonderlands that are constructed completely of ice to tree top hotels that bring back your favorite childhood memories, but there are very few that can claim to be at the top of the world. From Italy to Switzerland, here are 3 amazing hotels at the top of the world that will take your breath away.
World's Top 3 Most Amazing Hotels
Bivacco Gervasutti
Perched at the top of Mount Blanc in Italy, the Bivacco Gervasutti capsule is one of the most stunning and thrilling places you will ever stay. This hotel sits in the mountains well above sea level at roughly 9,300 feet , the precariously situated accommodations are designed with a minimalistic simplicity that allows you to focus on the breathtaking views of the mountains and valleys just outside your room. The capsule is a truly magnificent testament to man's ingenuity and is worth the 4 hour journey up the mountain to get there.
Whitepod Hotel
Situated at the top of the Bernese Alpes in Switzerland, the Whitepod Hotel is a futuristic grouping of pods that simultaneously blend into the cold winter landscape and stand out as uniquely manmade at the same time. The eco-friendly hotel offers private skiing slopes, mountain hiking and snowboarding for guests and a wide array of other nature inspired adventures that will make you really get into the spirit of the winter oasis.
Rifugio Torre Di Pisa
Found at the top of Cavignon Peak in Italy, the Rifugio Torre Di Pisa is a no-frills hostel that is a sight to behold. Carved into the very mountain peak is resides on, this hostel is a wonderful place for you to see the beauty of the Italian Dolomites without paying an arm and a leg for the adventure. The area is packed with many mountain trails and sights that offer a vast network of beautiful peaks, valleys and summits that will be etched in your memory for years to come.
Most Recommended