Blue Ridge Mountains Vacation To Lose Yourself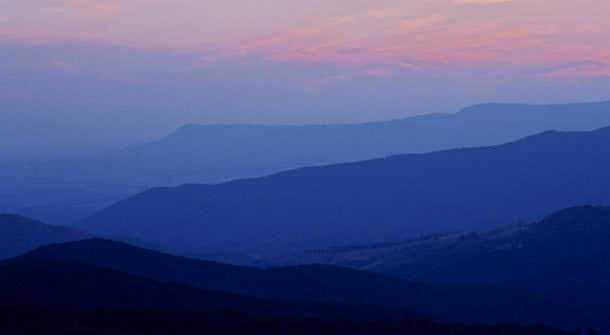 You could jet off to some tropical location and lounge around on the beach. And you'd probably have a great time. But how about Blue Ridge Mountains if you truly want to disconnect from the world for a while, you can't do better than the Blue Ridge Mountains. From its endless forests, to its rolling pastures, to its weather-worn misty blue mountains, the Blue Ridge area is the perfect place to lose yourself in an amazing natural setting. Known as "America's Favorite Drive," the Blue Ridge Parkway extends for just under 470 miles through the Blue Ridge Mountains in North Carolina and Virginia. The Parkway offers visitors camping, fishing, biking, hiking and golf opportunities, as well as an opportunity to explore the region's unique history and cultural heritage.
Blue Ridge Mountains
Hiking
Over 100 hiking trails extend along the Blue Ridge Parkway throughout Virginia and North Carolina. There are trails for every hiker, from the guy who just wants to enjoy a lazy day in the woods to the avid hiker looking for a serious challenge.
Camping
The Blue Ridge Parkway features nine campgrounds, which are open from May through October and offer visitors running water, restrooms, picnic tables, grills and space for RVs.
Golf
Looking to enjoy your tee time in a new setting? Plan a mountain golf getaway at one of the Blue Ridge Parkway's five golf clubs. The clubs offer public courses in a mountain setting, dining, entertainment and a variety of different lodging options, including log homes, condos, luxury hotels and rustic retreat-style villas—sometimes right on the course itself.
Biking
Mountain biking is prohibited on the Blue Ridge Parkway's hiking trails. However, biking the Parkway itself is permitted—and popular. Fair warning: there are long stretches along the Parkway where water, food and other supplies are unavailable, services vary seasonally, and the elevation can range from 600 to 6,000 feet. Seasoned bikers will undoubtedly enjoy the unique challenge. Novice bikers will want to choose their route carefully.
Fishing
There are enough lakes, streams and rivers in the Blue Ridge area to keep even the most hard-core fisherman happy. Fish bass, panfish and trout to your heart's content—just keep in mind that to fish in these waters, you need a North Carolina fishing license, and you're subject to state regulations. In addition, specific rules vary from area to area, so take the time to figure out what they are before you get out your bait and tackle.
Swimming
While you can't swim anywhere on the Parkway, a number of nearby national and state parks offer visitors designated swimming areas.
Most Recommended